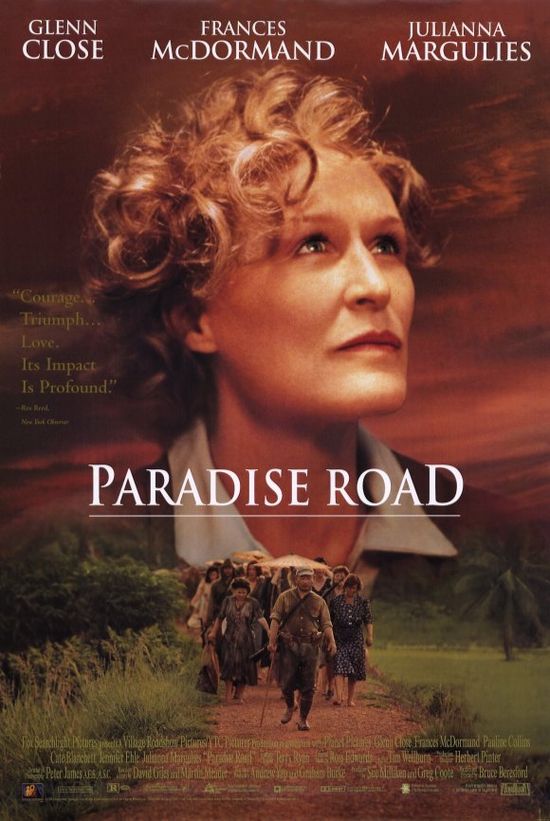 Year: 1997
Duration: 01:54:03
Directed by: Bruce Beresford
Actors: Glenn Close, Frances McDormand, Pauline Collins, Cate Blanchett, Jennifer Ehle, Julianna Margulies
Language: English
Country: Australia | USA
Also known as: Paradise Road 1997, A Estrada do Paraíso, Weg aus der Hölle, Camino al paraíso, Droga do raju
Description: The dramatic story describing the heroism of women imprisoned in Japanese concentration camp during World War II. Different women from different countries, speaking different languages, should join in the chorus to create a life-affirming symphony of human voices. From director of Puberty Blues and Double Jeopardy
Review: War – a terrible thing. World War II was the worst of all. People will never forget the Holocaust, the attack on Pearl Harbor, Khatyn tragedy, the destruction of Hiroshima and Nagasaki, the siege of Leningrad and many other nightmares.
However, the film "Paradise Road" reveals the theme that has not mentioned in the chronicles of the time. This women's concentration camp in Japan. And for good reason: with the prisoners of the descendants of samurai treated no better than the Germans. The same hunger, the same penalty for the slightest offense, the same turn man into a cornered animal. The film "Road to Paradise" is trying to correct this injustice.
European women by fate and war come to a Japanese concentration camp. There they were given to understand that the woman is, the more European – not a man, "a dirty pig in the backyard." Everyone tries to survive on its own. Someone uses uses his background and captivating protect someone brings someone chooses humble non-resistance. And someone wants to remain a man proud woman who is striving to convey to others. Motive of pride and freedom in every note sounds newfound choir. Even a seemingly soulless guards come to listen to the singing of those who were beaten for half an hour ago. And do not even callousness guided the soldiers, and a tribute to wartime.
The very idea of ​​the film Paradise Road is disclosed in full, but he was far from being recognized masterpieces, "Schindler's List," Steven Spielberg and "Come and See" E. Klimov. In this case, there is what I call the "effect of the misted glass." Everyone knows that in a misted glass can only see the silhouettes and the most sweeping motions. So here. Showing cruelty, fear, but only the most common manifestations of their reach to the audience. A similar example can be found in the literature. Try to compare "Ivan Denisovich," Solzhenitsyn and "Kolyma Tales" Shalamov. The difference in the perception of realism and felt immediately.
Another detail. I do not understand the movie audience. This is a story about women, that means it is designed for women. But not sure that any of the fair sex will stand until the end of the picture. Men, however, are unlikely to attract a rather calm development of the plot. Remains intellectuals who have not forgotten how to think, remember and empathize.
Screenshots:
Download: