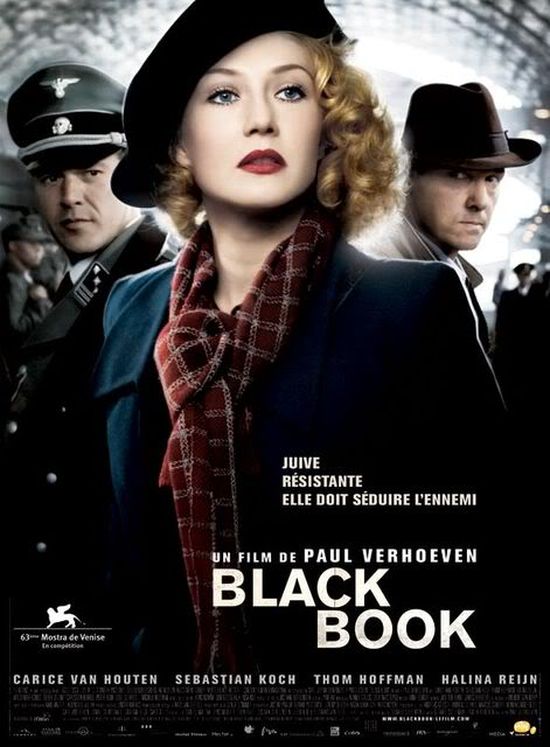 Year: 2006
Duration: 02:19:28
Directed by: Paul Verhoeven
Actors: Carice van Houten, Sebastian Koch and Thom Hoffman
Language: Dutch | German | English | Hebrew
Country: Netherlands
Also known as: La lista negra, Zwartboek, El libro negro,
Description: In the Nazi-occupied Netherlands during World War II, a Jewish singer, with nice boobs, who doesn't mind showing them off,  infiltrates the regional Gestapo headquarters for the Dutch resistance. English Subs available.
The Second World War. Rachel Stein – German Jewish origin. Fleeing from the Nazi genocide, she finds refuge in the Netherlands, where joins the resistance movement. Rachel is sure to find the traitor, the fault which killed her entire family. From now on revenge – the meaning of her life …
Israel 1956. Rachel, a Jew, rather unexpectedly meets an old friend at the kibbutz where is she working as a teacher. It brings back memories of her experiences in The Netherlands during the war, memories of betrayal. September 1944. Rachel is in trouble when her hiding place is bombed by allied troops. She gets in contact with a man from the resistance and joins a group of Jews who are to be smuggled across the Biesbosch by boat to the freed South Netherlands. Germans from a patrol boat murder them all however. Only Rachel is able to escape. She is rescued by a resistance group under the leadership of Gerben Kuipers. When Kuipers' son is captured after trying to smuggle weapons, he asks Rachel to seduce SS-hauptsturmführer Ludwig Müntze. Soon she will find out the attack in the Biesbosch wasn't a coincidence.
Review: The film, of course, good. Using the classical opposition between "their" – "wrong", it is easily and gently holds the viewer through all the intricacies of the storyline, making empathy, worry and look, look, look. Who? Why? These questions do not rest, but intrigue remains to himself, victorious in every sense, the end. This is the main merit of the film, for keeping the viewer in suspense for two and a half hours – is not easy. "Black Book", whatever you say, deal with it brilliantly.
Screenshots:
Download: