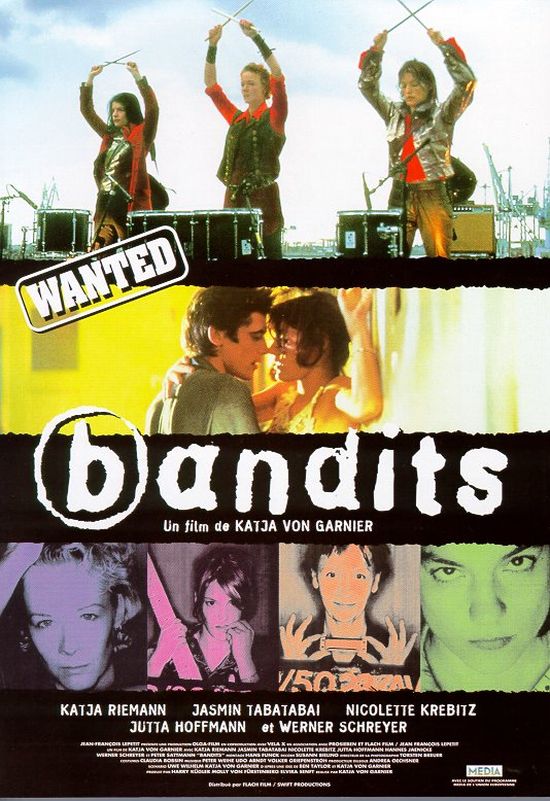 Year: 1997
Duration: 01:40:05
Directed by: Katja von Garnier
Actors: Katja Riemann, Jasmin Tabatabai, Nicolette Krebitz, Jutta Hoffmann, Hannes Jaenicke, Werner Schreyer, Andrea Sawatski
Language: German (English subtitles)
Country: Germany | France
Also known as: Bandits, Banditer, Oi paranomes, Zenebanditák
Description: Bandits, or as the film's characters would say: a band with breasts. There's an easy way to describe this film – it's a German view of Thelma & Louise. However, that's really not a good way to describe it. On the surface there are lots of similarities, as both films are about women on the run. In both films, the single strong male character is the law enforcement official in charge of bringing the women in. The problem with these simple parallels is that they make it too easy to file this film away under the 'imitator' category and thereby miss its many merits.
More than anything else, this is a film about characters. Luna (Jasmin Taratabai), Angel (Nicolette Krebitz) and Marie (Jutta Hoffmann) are all scarred by their upbringings and society, as is Emma. They range from the sweet naïve swindler, Angel, to the angry young tough, Luna, through to Marie who has less of a firm of a grip on reality. Most of the group's conflict comes from the more mature Emma's slow usurpation of the leadership role originally held by Luna. Still, as Emma moves more to the group's centre, the group as a whole grows stronger as does each member. All four of these actors do wonderful jobs portraying characters who are on society's edge. The strong acting more than compensates for the plot's predictability. Even as they are dealing with the stresses of being on the run, they are forced to also face the problems caused by sudden fame. Gold Records has released their demo tape and it is a hit.
If you liked Thelma and Louise, be sure to give this one a look. Its plot may not be original, but it has a few twists to keep your interest. And what the plot doesn't do, the acting, music, and social commentary will do.
Bandits is a commentary on Western society's views of law, law-breakers and the entertainment industry. We see success and failure from both sides, as well as a useful exploration of issues around vengeance and forgiveness.
Screenshots:
Download: