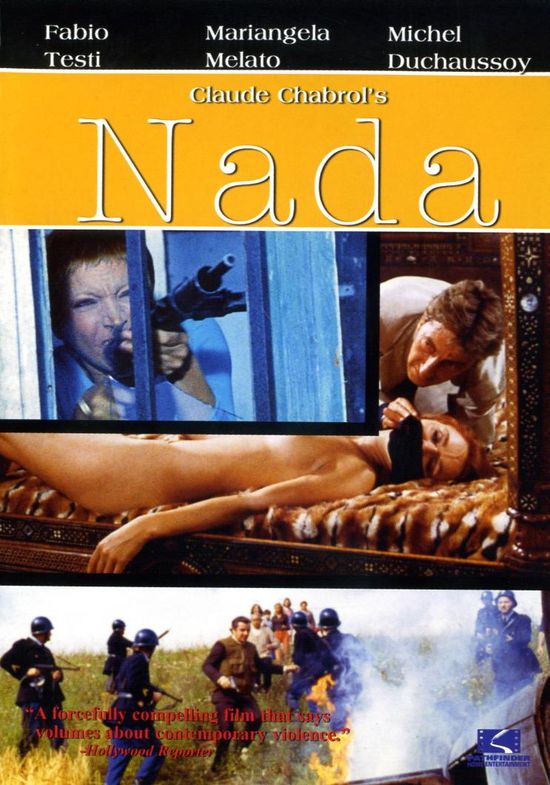 Year: 1974
Duration: 01:50:00
Directed by: Claude Chabrol
Actors: Maurice Garrel, Lou Castel, Mariangela Melato
Language: French

Country: France | Italy

Also known as: Nada, Anarhikoi, Epiheirisis: Ora miden, Nada csoport, Rød som blod, Sterminate gruppo Zero, Terroristiryhmä Nada, 
Description: Aggressively tuned gang of left-wing radicals called NADA makes a daring kidnapping of the American ambassador during his visit to the Parisian brothel. Since then, the authorities in the face of police and revolutionaries – Anarchists plunge the country into a maelstrom of violence and chaos. The kidnappers manage to leave the city and escape to the country house. There, they hold their prey, waiting for the authorities to respond on their demands …
Review: On the red terror in the development of bourgeois democracy filmed many brilliant authors. Fassbinder in the "third generation" and Marco Belloc in "Hello, night." Schlöndorff in the "Legends of Rita" and overrated classic film avant-guard grew into a "golden fund" Godard film culture in films that we get tired of listing.
Touched on the topic and a wonderful writer of French new wave Claude Chabrol. Immediately it should be noted – this is not his best kinoopyt. Those same "ceremony", "Hell" and "friends of the bride" differ as much artistic credibility and more acute drama. "Blood Wedding" noticeably ironic against the "pillars" of French society, which somehow affected and we are considering kinopolotno. Chabrol not lived up to expectations on the part of dark humor and social and psychological depth.
So, what do we see in this film? A group of leftists, whose motivation is considered passing, passing (only one hero of the past speaks in detail about his disappointment in the revolutionary struggle, paradoxically and pushes it to the insane action), heads of state and law enforcement agencies, which is to be expected, drawn media cynicism and violence, sometimes vigorous action, and unconvincing, stilted plot, according to which, the terrorist escapes from death, police "boiler". There are quite a far-fetched outcome. It is clear that Chabrol focuses on does not it. Do not plot the accuracy and socio-political meanings inherent in conventional and schematic scene: a left-wing takeover of the American ambassador hostage in a house of tolerance, deliberately negative gossanovniki openly discussing illegal schemes (although if the yardstick to measure the Nord-Ost and Beslan hostage with the intention to destroy by security officials did not seem unconvincing).
However, these are not deep meanings. Do not hold out, and the main characters to the notorious demons. One-dimensional characters, flat plot, surprising plot turns their stupidity. There is not a burlesque third generation, no meaningfulness, God forgive me, Trotskyites of soviet propaganda "great citizen".
Screenshots:
Download: