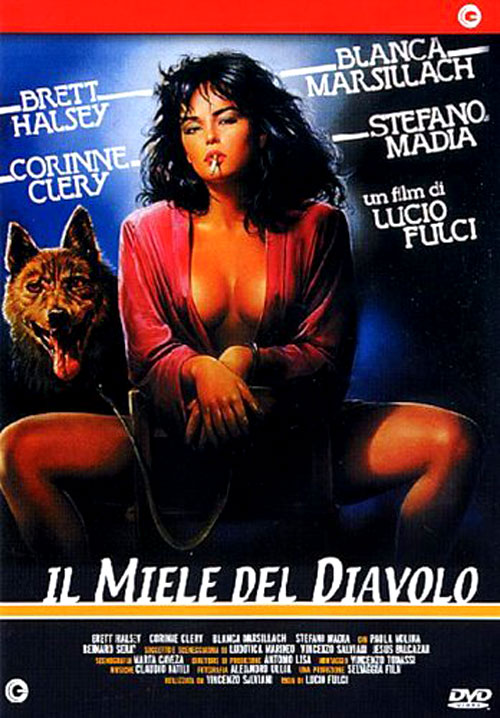 Year: 1986
Duration: 01:19:21
Directed by: Lucio Fulci
Actors: Brett Halsey, Corinne Cléry, Blanca Marsillach
Language: English

Country: Spain | Italy

Also known as: Polttava himo, Plaisirs pervers, O diavolos sto kormi tis kas Brown, Le miel du diable, Divine Obsession, Dangerous Obsession, Dämon in Seide, La miel del diablo
Description: A young woman goes out of her mind when her rocky relationship with her boyfriend is brought to an end by his sudden death. She blames the doctor who operated so kidnaps him and sexually humiliates him. Much better than it sounds!
Review: Two pairs: the musician and his girlfriend unconscious in love with each other, and the surgeon's impotent and his wife, incriminating wife of infidelity (in his spare time, he runs away to prostitutes). Weird accident – a musician with motorcycle crashes down – driving in the end the girl and the surgeon with the most that neither is a cruel and sadistic way.
"Devil's Honey" is not sinful sexual perversions, but rather an attempt to give them anything. Of course, this film is a real storehouse for lovers of Freudianism: here and rape of a pistol, and unborn children, and the blood of painting paints intimate places of prostitutes. After the death of the guy on the operating table, his obsession with the idea of ​​reproduction girlfriend is going crazy and finally puts the doctor on the circuit for a single villa. Love it? Hate? Of course, these two were made for each other. Unfortunately, the author of unforgettable specimen of Italian horror "eaters of flesh" Lucio Fulci, looking around in, obviously, to try a new genre of erotic thriller seems to have forgotten about the direction, resulting in a picture of a persistent feeling of wholeness – to the point that it sometimes seems if you observe the flow of unrelated episodes with pasteboard film studios to produce "adult films." So that was it – love story about loneliness? Seems Fulci tried to make a film about a woman, her obsession is and on what it calls the obsession with others, her tenderness, vulnerability, passion. Perhaps it is a declaration of love – in the original form sexploitation, of course. But, as mentioned above, it came from his flaws.
However, I do not rule out the possibility that this is the trouble with the script, the writing is as much a hand in five.
Still called the "Devil's Honey" awkwardness of the film somehow not bring. Largely due to the beauty Marsillah Blanca, which has played the main character, a sadist. She looks like her older sister Christina, which is about the same years, starred in "Opera" Argento – and for such beauty, the beauty of the characteristic destructive sense, I'm willing to forgive a lot. In terms of the casting director was in the top ten.
Screenshots:
Download: