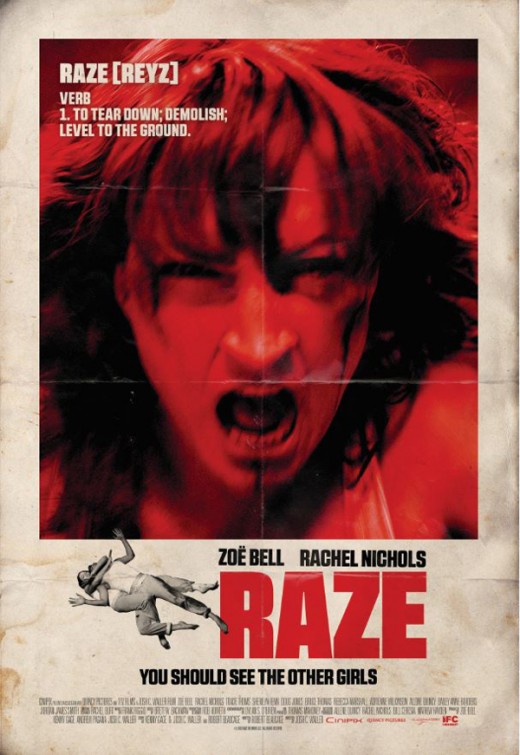 Year: 2013

Duration: 01:32:07
Directed by: Josh C. Waller

Actors: Zoe Bell, Rachel Nichols, Tracie Thoms

Language: English
Country: USA
Also known as: 
Description: 50 attractive young women of different color and the degree of sexuality held captive unknown sadists of the upper strata of society. Girls from time to time do not understand what happens to be very soon in the ring to fight for life and death. "Hostel" extremely successfully transformed into a "Fight Club" and "Blood Ring" at the same time .
Operational movie with themselves and their origins up to the present day hardly undergone excessive transformation in the spirit of the new post-modern times. Virtually all operational picture , and absolutely not important genre of a regular low-budget creations – whether thriller , horror or thriller – must meet two basic criteria and the most striking of any little or less qualitative Grindhouse , that is to have blood and silicone in their core content. And the number of FDTD and silicone must be equal in proportion to each other , because if the first is too much , just a rollicking thrash cleverly converted or gore- grinder a la Gershell Gordon Lewis or Olaf Ittenbah , or splatter- party a la early Peter Jackson . If the second , that is silicone, more than required , then this movie is already operational divzhetsya on track wet gay porn, although recently there has been a trend towards a full and not always successful merger into a perverted orgy porn and horror . However, in his classic Grindhouse variations found a new postmodern reading in the works of Tarantino , Rodriguez, Ayzenera and other , much less fortunate their successors.
American debutant director Josh C. Waller just falls into the category of young and promising fresh blood of modern thrash cinema. In 2013, without the express excitement even among the public, a savvy new trends Grindhouse , in a limited American film was presented to a full-length film debut Waller called "Destruction " , representing a spectacular bloody homage to a kind of classical tradition paintings subgenre WIP and no less a classic old-school fighters vosmidesyatnicheskim of assorted martial arts. In " Raze" powerfully intertwined into a knot motifs films about women prisoners from Jesús Franco ( "99 Women" , for example) , Lloyd Simandl ( almost all of his films  – direction) , Paul Nicholas (same "Women in prison " ) Sirio Santiago and Jack Hill and plot elements of combat movies with muscular testosterone cuties Van Damme , Mark Dacascos , Olivier Gruner and other cult heroes militants Actors , only this time instead of masculine bloodiest battles of spectators waiting insatiable slaughter and with a taste of the brutal massacre soft female flesh .
The film Raze is seen not as graceful and stylization grim , a kind of being a old school samples of the genre, however , and is a kind of self-contained creation that pretty please most viewers and laconic narrative, concise and tight timing and content of an extremely busy , full of drive, dynamics and meat tin.
Screenshots:
Download:
Get a high quality DVD or Blu-ray: