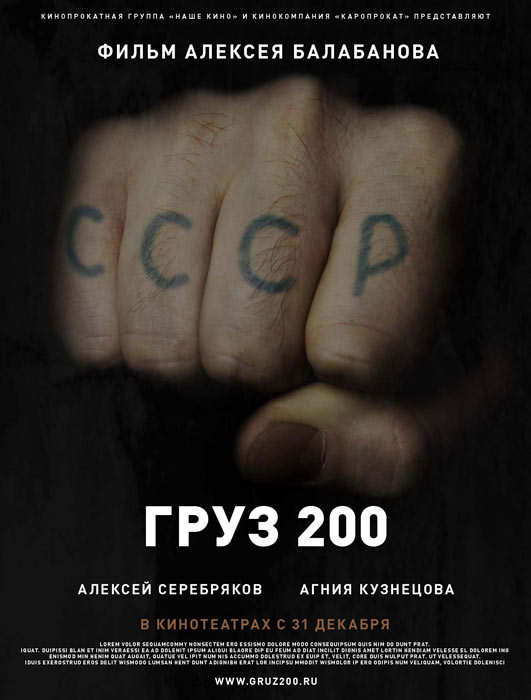 Year: 2007
Duration: 1:25:37
Directed by: Aleksey Balabanov
Actors: Agniya Kuznetsova, Aleksey Poluyan, Leonid Gromov
Language: Russian
Country: Russia
Also known as: Náklad 200, Fortio 200, Teret 200, Bádogkoporsó, Cargo 200, Ladunek 200, Kargo 200, Груз 200, Freight 200

Description:
The film is named "Gruz 200" (Cargo 200) after the zinc-lined coffins in which dead Soviet soldiers were shipped home from the 1979-89 war in Afghanistan. Messrs. Balabanov and Selyanov say they made the movie as an antidote to what they describe as rising nostalgia in Russia for the Soviet period.
"I show what filth we lived in," said Mr. Balabanov, a director sometimes described as Russia's Quentin Tarantino. "Society was sick from 1917 onwards," he added, referring to the year the Bolsheviks took power.
The film — a graphically violent story of the sexual abuse of a teenage girl at the hands of a sadistic Soviet policeman — paints a relentlessly negative picture of a time that many Russians recall with warm nostalgia. The filmmakers hope to release the movie overseas but haven't yet signed up a foreign distributor.
Critics say "Gruz 200" is symptomatic of a general unease among Russia's cultural elite about the resurgence of Soviet-era symbols and thinking. While news on state TV is carefully choreographed to crank up patriotic fervor, a major Kremlin priority, movies paint a more nuanced picture. In the past year, TV networks have aired major miniseries depicting the horrors of the Soviet Gulag, based on works by Alexander Solzhenitsyn and other dissidents
But "Gruz 200" is by far the harshest of these works, and is set in an era that's more recent.
Screenshots
Download