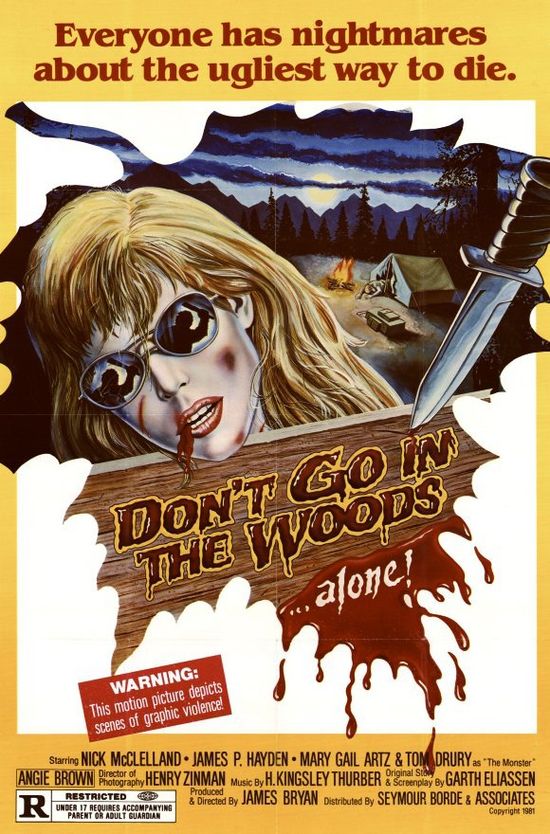 Year: 1981
Duration: 01:21:49
Directed by: James Bryan
Actors: Jack McClelland, Mary Gail Artz, James P. Hayden

Language: English
Country: USA
Also known as: Don't Go in the Woods… Alone!, Nie chodz do lasu, Ausflug in das Grauen

Description: Four young campers, in one of the weekends, went into the woods, relax, climbing, although they were warned not to walk in the forests, but the thing is that in the forest lives a wild maniac who has a hobby – to destroy the pesky tourists .
Review: One of the most popular topics in the slasher – is, of course , on the nature of the massacre . Maniac placed in huge forests , manages to be everywhere and kill anyone sunuvshegosya one in the arboretum or a little behind the group. The basic rule for such slasher made ​​in the very title of the film " Do not go into the woods … alone! ", Which will now be considered by me .
Perhaps I can neither start his speech by talking about music. If soundtracks almost all slasher fans hotly debated dark styles of music to this day , because thence composers still tried and managed to create melodies and motifs for centuries , the " Do not go into the woods … alone! ", Unfortunately , is remembered primarily to its inability terrible soundtrack. No, of course , present in the film and a couple of " fit " of the tracks , more or less viewers tuning in the desired fashion , but what about the main track , which, like any other slasher , begins to sound in a moment of danger . His music is not even a name – this track consists entirely of non-rhythmic beats. The sound of this , as if knocking on the iron pan , I swear. Sounds very unpleasant , repulsive.
We now turn to murder. Good slasher – this is not the slasher , which kills many , but the one where the most murders are well put , naturalistic look through quality makeup . Same creators of the film " Do not go into the woods … alone! " Decided to take just the amount that , of course, seriously affected the quality . How pathetic it may sound, but one of the central problems of the film just kills in abundance , many of them as if there for show , because they do not need corny . While most slasher viewers initially shows a group of people – the protagonists that they already know who will die , even if they did not know in what sequence , the " Do not go into the woods … alone! " Somehow tells a little about the main characters – the four young men who had gone to rest on nature.
Screenshots:
Download: