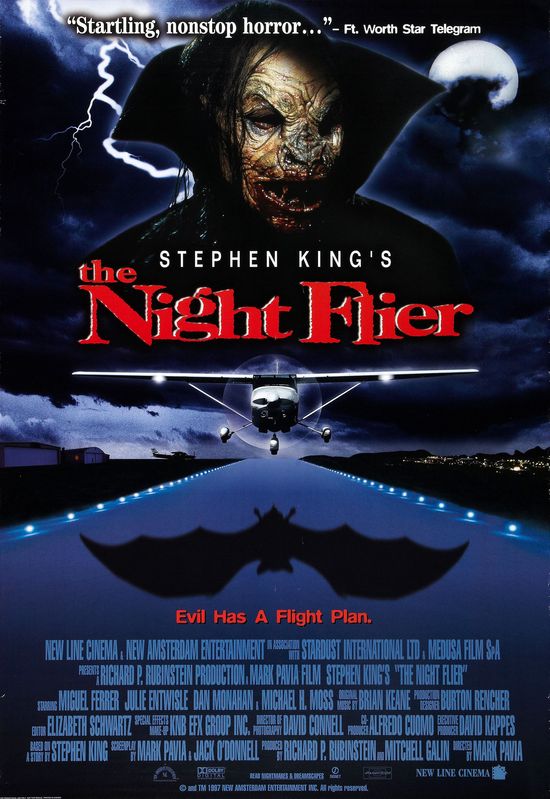 Year: 1997
Duration: 01:36:21
Directed by: Mark Pavia
Actors: Miguel Ferrer, Julie Entwisle, Dan Monahan, Michael H. Moss
Language: English
Country: USA
Also known as: Les ailes de la nuit, O pilotos tou skotous, Stephen King's The Night Flier
Description: I have said it before and I will sure as hell say it again. One of the most important things necessary for a horror movie to be a good horror movie, especially nowadays, is originality. To this day one of the most original vampire movies, maybe even horror movies I have seen is The Night Flier.
The movie follows the exploits of a "man" named Dwight Renfield (nice Dracula references by the way Stephen King!) who has a bad habit of making midnight snacks out of caretakers at lonely out of the way airfields along the east coast before taking off in his all black single engine Cessna airplane. One of the great teasers of the movie is that you do not actually see Renfield for most of the movie, just brief glimpses of him which heightens the suspense factor.
Now enter Richard Dees, played in an excellent role by the underrated actor Miguel Ferrer (Hot Shots part Deux!). Dees is a very angry, cynical, sarcastic, flat out depressing reporter (let us just say he's an asshole) for a Weekly World News type magazine called Inside View. His boss (played by none other than Dan Monahan aka Pee Wee from Porky's!) assigns him the task of investigating the legend of "The Night Flier" and instructs him to go to any sleazy underhanded lengths to get pictures and a story.
Dees has an airplane similar to the vampire's plane and travels to America's rural airfields to investigate this mysterious rumor of a dark figure that brings death wherever he lands.
Unbeknownst to Richard Dees his boss assigned the new girl at the magazine the same case and is forcing them both to compete for the right to author the front page story. Dees is not happy when he finds out. As the two journalists get closer and closer to the truth about the legend the vampire begins giving warnings to Dees to stay away. Of course he does not listen.
A series of cat-and-mouse games by Renfield along with the exhaustive pursuit of the exclusive story leads to one of the very best, for my money, endings I have ever seen in a horror movie.
Stephen King really shows his skill at writing a good story with this film. The Night Flier serves as a great morality shift, focusing more on Dees and his demons than the murderous habits of Renfield, making Renfield into more of an antihero than a villain. Renfield seems to be trying to get Dees to do the right thing while at the same time murdering random people. Quite a strange but interesting picture.
It is too bad this film didn't get the attention it deserved when it was initially released. Now, after reading this review, you know that this is a great horror movie that should be checked out…and knowing is half the battle.

Screenshots:
Download: