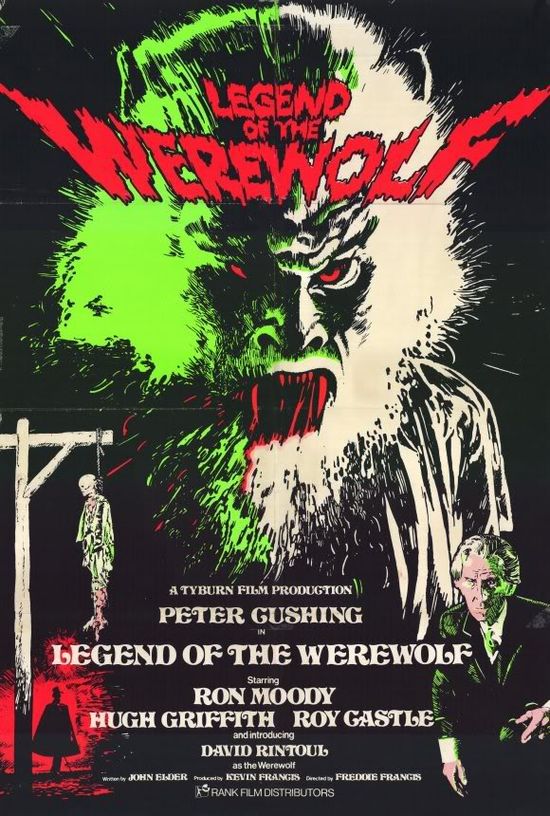 Year: 1975
Duration: 01:26:30
Directed by: Freddie Francis
Actors: Peter Cushing, Ron Moody, Hugh Griffith
Language: English
Country: UK
Also known as: Plague of the Werewolves | La légende du loup-garou (France)
Description: A newborn is raised by a pack of wolves that adopt him after having killed his family. He grows up as a wolfboy only to be taken in by a travelling circus that makes him his star attraction.
He becomes more civilized, but when he becomes a young man, the instincts he once had come back. He escapes to Paris where he seems to be able to carry on with a normal life.
But he falls in love with a woman working at a brothel and the rage he feels for all the man that sleep with her, along with the full moon that lights the Paris night, make him turn into a werewolf.
Review: In the 1800's in Europe, after being orphaned by wolves killing his family, an infant is adopted by the animals and raised as a feral child until he is discovered by a small traveling circus as a young boy and brought into their troupe as the star attraction (David Rintoul). As he grows to adulthood, his primal instincts overwhelm him during a full moon one night and he kills one of the performers, fleeing to Paris in a panic. On arriving, he is befriended by a misanthropic old zookeeper (Ron Moody) who gives him a job taking care of the animals and meeting the customers, one of whom is a beautiful young prostitute (Lynn Dalby) with whom he becomes infatuated. Enraged on discovering her true occupation, his animal side rises once again and forces him to stalk and kill her clients, leaving a trail of mutilated corpses behind him which attracts the attention of a perceptive and suspicious surgeon (Peter Cushing) who may have the knowledge necessary to stop the rampage.
Not bad at all, a pretty much forgotten Tyburn entry into the genre usually associated with Hammer Studios, with much of the same feel on what was most likely a fraction of the budget.  Directed by the Academy Award-winning cinematographer Freddie Francis (Tales From  the Crypt, The Creeping Flesh, Craze) "Legend of the Werewolf" is one moves right along at a nice pace and has a ton of those wonderful faces that show up in this era of Brit filmmaking, including Hugh Griffith, Norman Mitchell and Michael Ripper to name just a few.  Nice wolf-man makeup too, miles better than that ridiculous shit they stuck on Benicio Del Toro for the Wolf Man remake, anyway.
Screenshots:
Download: