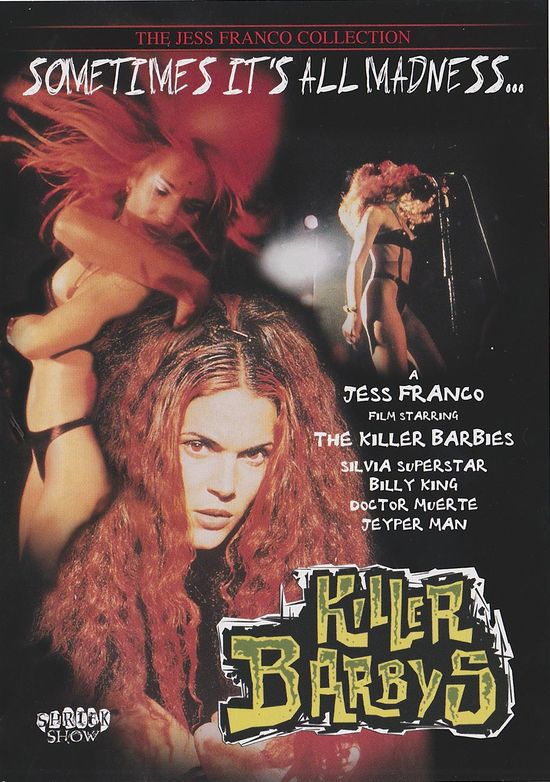 Year: 1996
Duration: 01:27:06
Directed by: Jesus Franco
Actors: Santiago Segura, Mariangela Giordano and Aldo Sambrell
Language: Spanish (English Subtitles)

Country: Spain

Also known as: Vampire Killer Barbys, The Killer Barbies

Description: Car with musicians from the band "Killer Barbys" landed in a swamp near the residence of Baroness Olga Lyushen, which for two centuries has supported her youth through the blood of her young victims.
Review: Spanish punk rock band "Killer Barbys" hurry up just in time – is widely known in narrow circles of Jesus Franco (a combination of these first and last name in the alias is even tough than Brian Warner – on one side of human redeemer of sins Jesus, on the other – the leader of the military regime of Generalissimo Franco ) was ready to begin shooting his new netlenki by sending random tourists in the den-vampire countess Fryugenman and her faithful servant Arkan. But a group of "Killer Barbys" easily and naturally replaced some sort of "accidental tourists", and the film ultimately profit from that.
The plot is as predictable and Franco did not hold up. It's like a comic book. Moreover, quite scary. First, Jess Franco (a pseudonym director was forced to take, for a combination of Jesus and Franco French distributor seemed unacceptable) uses a so-called «gore», that at least in the translation from English and means "gore", actually in the film is a horror guts severed limbs, torn and broken eyes lacquered fingernails.
Screenshots:
Download: