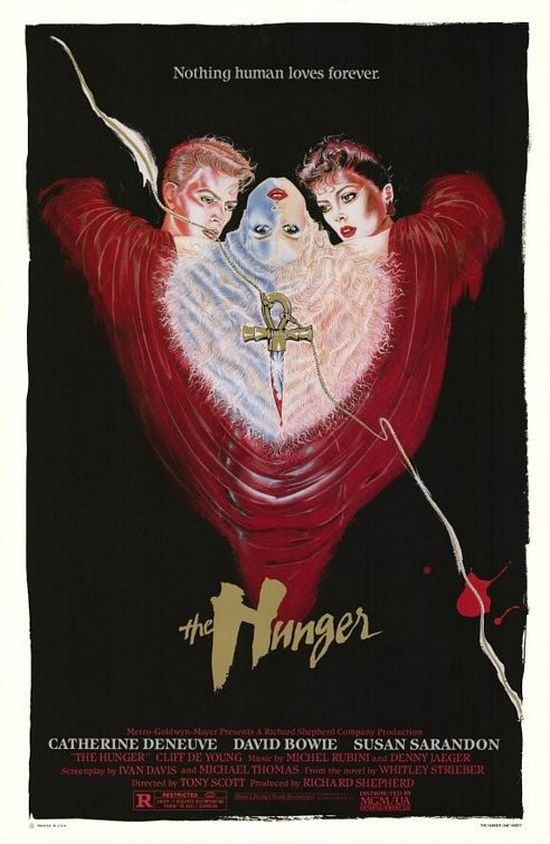 Year: 1983
Duration: 01:32:33
Directed by: Tony Scott
Actors: Catherine Deneuve, David Bowie and Susan Sarandon
Language:English
Country: UK
Also known as: Begierde, Glad, Fome de Viver, Les prédateurs
Description: Catherine Deneuve plays a cold and beautiful vampire Miriam, who wanders in the dark trendy nightclubs of Manhattan in search of fresh blood. Bowie plays the role of John, her two hundred years old partner, with whom the immortal heroine shares not only her secret life, but also a secret passion! When her faithful companion John suddenly begins to get older, a charming woman scientist wants to help him, but she becomes the part of the a terrible triangle of desire, sex and blood..
Review: The film "Hunger" is an adaptation of the novel by Whitley Strieber, who quickly gained cult status and asking for filming. First director of the film was to be Alan Parker, but declined in favor of full-length debut by Tony Scott.
For some reason, it is considered that it's a movie about vampires, but in fact they never been mentioned here, and you won't find here any classic canons about vampires. Therefore more suitable expression – "immortal beings."
Miriam and her partner John live by feeding of blood. They find their victims in glamorous nightclubs. But if Miriam is destined to eternal life, John begins to "fade" on the eyes. At this time appears Sarah, a doctor studying the problem of sleep and aging.
Scott worked perfectly with the picture, bringing everything to an awesome  video. On the one hand this is a plus, really, everything looks just fine, but someone migth not like it. Inspired by the image quality, Scott doesn't hurry to explain the details of the seems to be a simple story and the audience begins to think out all by themselfs. In addition the plot is changed, and it differs from the literary source.
Terrific makeup and special effects, fans of strawberries, for sure, will like the lesbian scene between Catherine Deneuve and Susan Sarandon, its very sexy.
Screenshots:
Download: