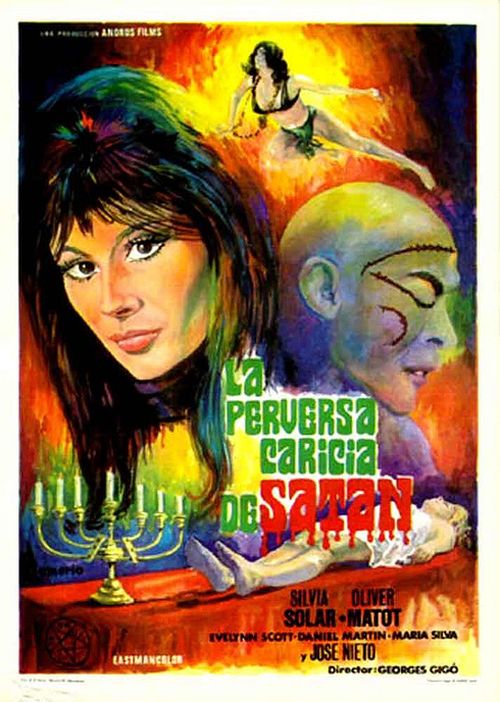 Year: 1976
Duration: 01:33:06
Directed by: Jordi Gigó (as Georges Gigó)
Actors: Silvia Solar, Olivier Mathot, José Nieto
Language: English (dubbed)
Country: Spain | France | Andorra
Also known as: La perversa caricia de Satán (Spain; original title) | The Wicked Caresses of Satan
Description: A Count invites a couple of occultists to come to his gothic castle and performe their studies. They must only keep him informed so he can attempt to contact his brother, dead in an accident.
But the occultists have plans of their own, seeking a revenge against the one who lead the husband of the woman of the two to kill himself: the Count. They will conjure a demon to take possession of a cadaver so it will go and a murdering rampage.
Review: What do you get when you mix a pseudo-erotic thriller, a zombie, some Devil conjuring, a mad scientist, a a gothic castle, telepathic mind control and a murdering spree? You get Devil's Kiss, a bad batch of movie mash trying to make a fast buck on provincial cinemas all around Spain. It's bad alright, real bad. But not bad enough to be good… But you will want to see it!
As many films and novels, horror, dead raise two types of people necromancers and mad scientists like Victor Frankenstein. Of course, it happens that the corpses emerge from their graves themselves and comes Zombiegeddon George Romero, but universal catastrophe in this case we are not interested. Gothic horror (it is trying to remove the Spaniard Jordi gigo in his Perverse affection of Satan») and world cataclysms. So, either witchcraft or science – third is not given. Here is a view only Senora gigo alone neither the like as not guarantee, so to be sure it would be better to combine the efforts of the sorcerer, with blazing whispering mysterious spell, and picturesquely scientist with diligence making colored liquid from a test tube in tube. Two such cases make deads escape from the graves .
By the way, not a bad idea for black Comedy – strange that it still nobody picked up. Here's just «Devil's Kiss» – not a Comedy… Probably. But the movie is funny is Yes, so I am not sure of anything. Even in the fact that the history of Gothic revenge in blood-red colours that conceived and implemented the heroine of the film Claire Grandier using obsessed Professor Gruber, initially, was not meant to amuse the respectable public. Because otherwise from the movie turns out absolutely worthless trash, that with all my love to this «base» genre, digest does not work.
Screenshots:
Download: