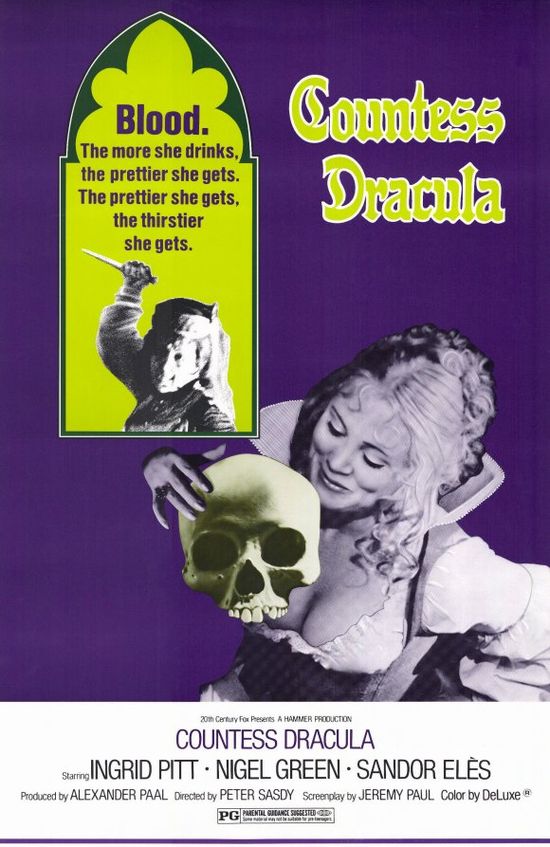 Year: 1971
Duration: 01:33:17
Directed by: Peter Sasdy
Actors: Ingrid Pitt, Nigel Green, Sandor Elès, Maurice Denham
Language: English
Country: UK
Also known as: La condesa Drácula, Comtesse des Grauens, La morte va a braccetto con le vergini
Description: With lost her husband, Elizabeth Countess gets involved in black magic and began to practice swimming in the blood of virgins to help restore her youth and beauty. Soon she meets a potential new husband – a cute lieutenant. But soon he finds aou about the murderous passions of Elizabeth and decided to postpone the wedding.
Review: That's one of the first interpretations of the stories about the worst medieval countess. Interpretation – because you can not say exactly how it was actually and it's just look of Peter Sasdi on those events. OK, let's say a few words about the "Countess Dracula".
In this film, Countess Bathory is represented by the bloodthirsty killer of young girls, in order to regain his youth. The picture, of course, is not devoid of hyperbole. It was as though the Countess bathed in the blood, turned from an old woman into a young girl. Of course, this could not be, but the contrast of the picture is a good move. What can we say about the actors in 1971? The game is simply gorgeous. They live their roles, and accurately convey all the emotions and experiences. Perfectly recreated the interiors of buildings (street scenes are not too many), items of clothing, customs and traditions of the time – that's what I admire most about these paintings. How much should it take to show so realistic that era.
If the picture made in 2008 is exhausting by its length, this movie looks too short, I would like to know more about some of the characters, and in particular about the young Countess Ilona and her relationship with her mother. Well, the movie  is awesome, and I recommend it to everyone.
Screenshots:
Download: