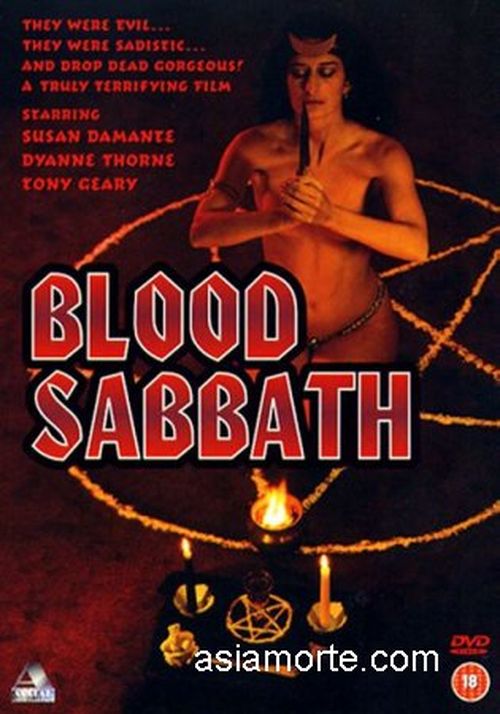 Year: 1972
Duration: 01:22:00
Directed by: Brianne Murphy
Actors: Anthony Geary, Susan Damante, Sam Gilman, Dyanne Thorne
Language: English
Country: USA
Also known as: Aquelarre sangriento, Ta koritsia tou Satana, Yyalah
Description: A coven of witches captures a young man traveling through the woods. He gets involved in a power struggle between a beautiful witch and the evil queen who heads the coven.
Review: The film "Blood Sabbath" is based on the love story of a former Vietnam veteran David and some kind of sea nymph Yaly . But love is love, lady, like a mythical creature can not fall in love with an ordinary man with all his heart , and therefore David urgent need to sell your soul . Let not anyone else , and big tits Alotte demoness who has a maid walks a gaggle of naked beauties . And all the film we are to observe this item . dostradaniyami , followed by attempts to get Alotty David ( soul Well do not just sell ) . Phrase uttered by characters, sometimes defy logical comprehension . Just look at the screen and do not know what they want to hear.
The severed head (though not bad to do) and a few drops of blood – is all set to entertain the audience. And do not tell me about the low eksploiteyshensky budget – in an effort to push their creations beyond the usual Grindhouse creators often filled with lurid screen , but drayvovymi fights , shootings , scenes of cruelty. But if the first and the second was not supposed to on the subject, here's violence for allegedly provocative film about witches there really is not enough. Demonic bed in the middle of the forest – it's all scenery . Hefty radio and green suit – the only signs in Vietnam , in fact, flashbacks of Vietnam.
In principle , the local actors – not the worst I've seen in movies of this kind, but that does not change the fact that they all look great on the screen predictably false and unconvincing. Future " Ilsa: She Wolf of the SS " Dianne Thorne , who plays the bitch Alottu – the only one who bothers to show some acting skills , and that is because his character kept on the same wavelength – throughout the film Alotta – fatal witch – seductress , and this image is to end, while at the other characters and the mood of the characters are changed like the beat of a metronome .
As becomes clear from the above, the tape is interesting to watch as much as consider the body knocked the cat. The majority would be disgusted , and some standing for a few minutes and Poglazov , leave and do not remember . In this case, the deterrent to those very few minutes , is nudity . Cute girl smiling slyly at the camera and shake their generous gifts of nature . Do not know , the poor , that will look at them a thread zamaterevshy connoisseur exploits hmyknet pretty , scratch his his friend and go down the cinematic track, and they did not really with their careers will develop the bright spots in a thoroughly impersonal and uninteresting curiosities with which rarely who will blow away the dust.
Screenshots:
Download: