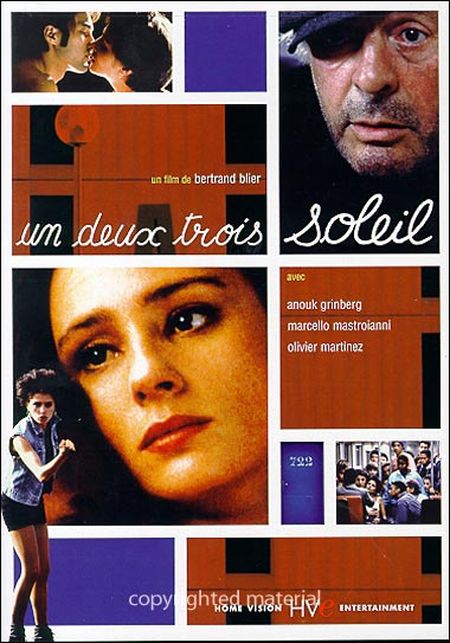 Year: 1993
Duration: 01:44:48
Directed by: Bertrand Blier 
Actors: Anouk Grinberg, Myriam Boyer, Olivier Martinez 
Language: French (With Subtitles)
Country: France
Also known as: Un, deux, trois, soleil; Eins, zwei, drei, Sonne; 1, 2, 3 aurinko; Ipi-apacs egy, kettő, három…; Uno, due, tre stella!; Raz, dwa, trzy, Baba Jaga patrzy; 1, 2, 3, Sun
Description: After watching this film, I was trying to understand – what is it about? About the girl-teenager, searching for a life of love? About the terrible life in the suburbs? About the relationship with their parents? Very difficult to tell what this picture is, it is so deep that penetrate into it, looking at once is almost impossible. It's like a dream, wonderful, strange dream. In this dream all immortal, it is one and the same character may be a girl-nymphet and vamp, and a regular teenager, and even the flapper.
Amazing, as with all these images copes actress Anouk Grinberg. She literally reincarnated on the eyes without any makeup. That's where the real acting. Marcello Mastroianni is also very pleased, very cool he managed the role of the father is a drunkard, good crazy old man who can't remember how to get into my own house and not notice that weeks living with other people's children, but loves his daughter and is ready to do anything for her.
It is noteworthy that this film Bertrand Blier devoted to his dead father, actor Bernard Blier.
Screenshots
Download