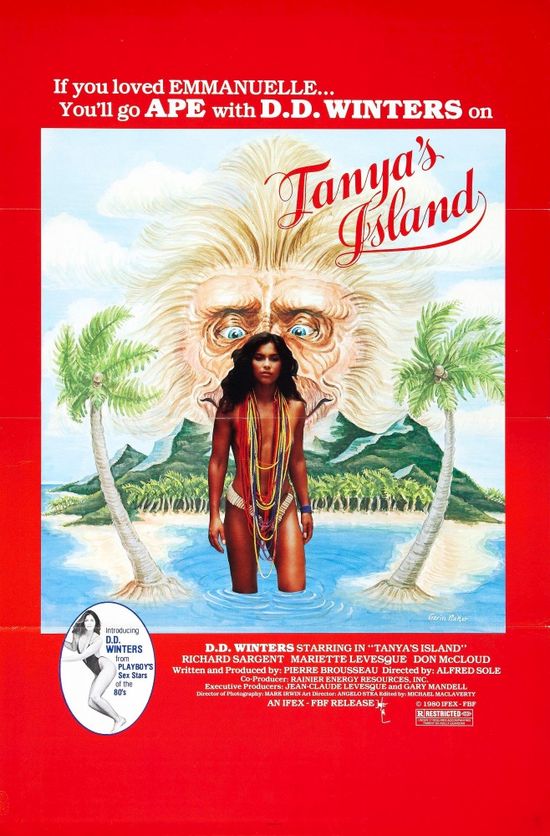 Year: 1980
Duration: 01:21:36
Directed by: Alfred Sole
Actors: Vanity, Richard Sargent, Mariette Lévesque
Language: English
Country: Canada
Also known as: La bête d'amour (Canadian french title)
Description: Tanya is a female model with a violent boyfriend named Lobo. The abuse as made her fantasize with a deserted island to were she escapes. One day, that dream becomes true. She finds herself on the island along with Blue, a kind gorilla that is almost human.
She starts to feel an attraction for the creature, but then her boyfrind appears on the island. Lobo enraged with jealousy tries to capture Blue and then cages Tanya herself. But the ape is fond of the girl and goes to save her, facing Lobo. Only Blue as become too fond of Tanya, desiring her as if he was a man, and things can't end well.
This filmis about sexy and oft-naked girl and her spouse who go down to live on an island for reasons that eluded me personally. The only other being on the area is a ape man/bigfoot type creature whom the woman nicknames "Blue". The girl seems a strange affection, also perhaps an attraction, to the creature, making her husband increasingly jealous. He becomes determined to capture this monster and place it in a cage. The Freudian metaphor right here is pretty obvious–the monster represents the wild, uncivilized side of the man, and he fears the woman's attraction to it and desires to repress both it and her. This interesting idea is pretty seriously fumbled though by some really horrid a clichéd, acting and cop-out ending usually used by filmmakers when they have totally run out of ideas.
Screenshots:
Download: