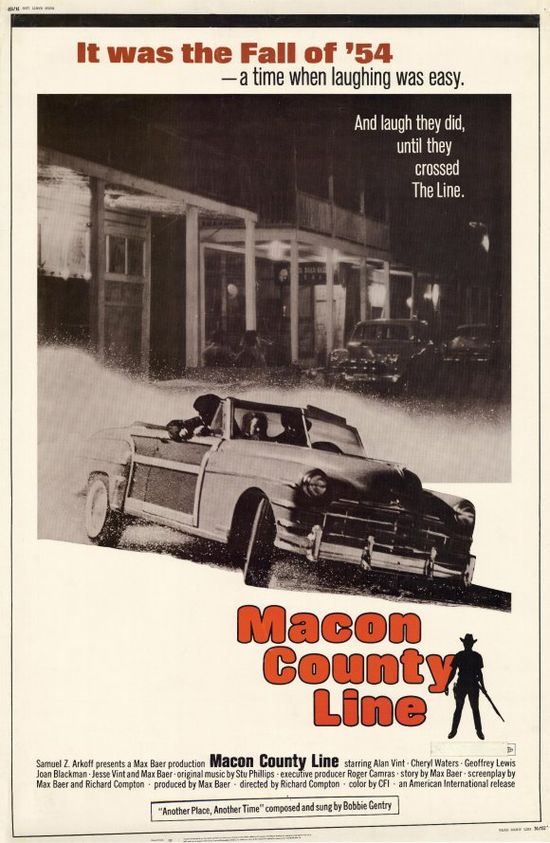 Year: 1974
Duration: 1:28:19
Directed by:  Richard Compton
Actors:  Alan Vint, Cheryl Waters, Max Baer Jr.
Language: English
Country: USA
Also known as: Kohtalokas erehdys, Killing Time, Vivere pericolosamente, A Fronteira do Pesadelo, Sista natten

Description:
Tomorrow is the first day of the 1953 hunting season in Macon County, and brothers Wayne (Jesse Vint) and Chris (Alan Vint) have just made an enemy out of Southern lawman Deputy Sheriff Reed Morgan (Max Baer Jr.). Written by Max Baer Jr. on the back of scripts during his down time on The Beverly Hillbillies, Macon County Line would surprise everyone and go on to become the most profitable film of 1974, based upon cost (around $225,000) to film gross (upwards of $3 million).
Directed by Richard Compton, the movie features a scene stealing performance by Geoffrey Lewis as an amiable auto mechanic, and an early appearance by Leif Garrett as Sheriff Morgan's young son. Cheryl Waters is along for the ride playing a pretty hitchiker with a past. There's also a theme song by Bobbie Gentry.
Screenshots
Download