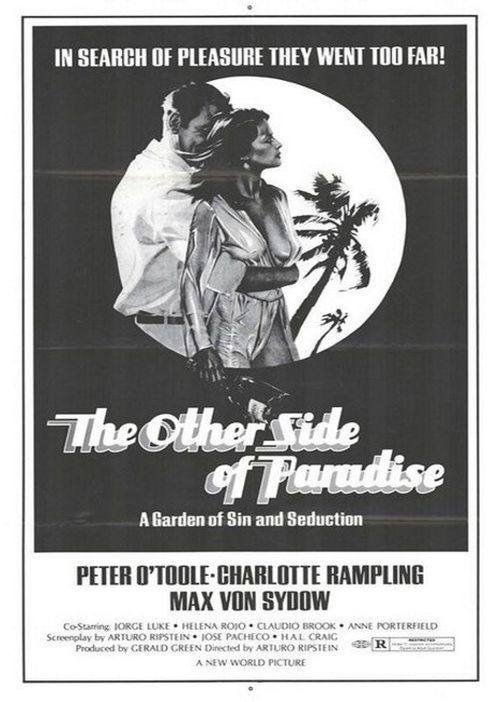 Year: 1976
Duration: 01:25:12
Directed by: Arturo Ripstein

Actors: Peter O'Toole, Charlotte Rampling, Max von Sydow, Jorge Luke

Language: English
Country: Mexico | UK

Also known as: The Far Side of Paradise, Todliches Inselparadies

Description: 
Interesting failure. This film is also known as The Far Side of Paradise or The Other Side of Paradise but under those titles the film is slightly longer with added sex scenes. As difficult to find as Foxtrot was,  the other versions are impossible to find.
The film does not list a description in IMDB so you can imagine how obscure it really is considering 1) it was made in 1976  2) it was distributed by Roger Corman's New World Pictures. 3) It stars Peter O'Toole, Charlotte Rampling, and Max Von Sydow and 4) It was an English Language film directed by one of the great Mexican Directors Arturo Ripstein.
I really like Ripstein and have been impressed with his work, additionally it must be noted that he started with Luis Bunel. Considering he has worked on more than 50 films only a few are found here. Of those found few are currently seeded and many do not have subtitiles for their Spanish language.
Therefore finding a Ripstein not upped here in English is a rare treat . So why is it so difficult to find? The only reason such a film would be so difficult to find is either that is an incredible undiscovered gem or one of the worst movies ever made. I am sorry to report it is clearly the latter reason that explains its obscurity.
The film involves a rich couple played by Otoole and Rampling staying at a private island with a lead servant played by Max Von Sydow and a Spanish servant played by Jorge Luke. Despite the quality of stars and director the screenplay is unbelievable. None of the characters rise above cliche and the dialogue is memorable for its incredible stupidity. I kept asking myself what were they thinking? Who is the film for? Romantics? is this a chick flick? is it a mystery? will something interesting happen?  At almost the 3/4 mark the film finally becomes interesting with a strange plot twist but by then it is almost too late to care. Otoole is almost impossible to watch and Rampling's mood changes so often and inconsistantly that it is really frustrating watching her. At times Ripstein tries to remake, Swept Away, then the Great Gatsby, then The Most Dangerous Game, then Castaway. This description makes the film sound a lot better than it actually is and the writing is clearly at fault. The director and cast just have nothing to set them straight and the film suffers.
A real shame because similar island films with class conflicts had been interesting and as with the case in this film a lot more could have been done. Anyway if you are like me and really like Ripstein you might want to take a look and then watch his film Deep Crimson, Profundo Carmesi to see what he can do when he actually cares what goes up on the screen when the lights go out.
This version of  the film appears to be a tape from a vcr so the quality is not that good, but truly a crystal clear dvd rip wouldnt add much to this very poor film. Sorry I couldnt find more to like.
Screenshots:
Download: