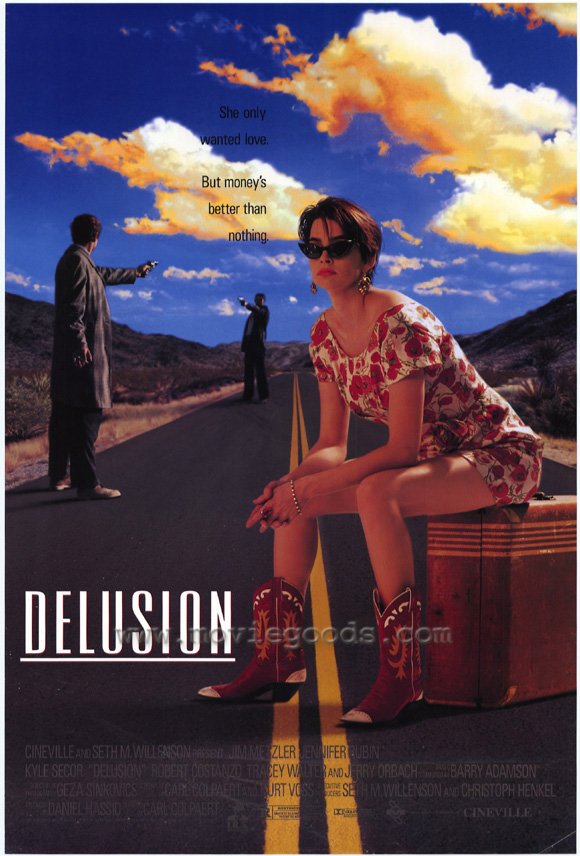 Year: 1991
Duration: 97 min.

Directed by: Carl Colpaert
Actors: Jim Metzler, Jennifer Rubin, Kyle Secor
Language: English
Country: USA
Also known as: Autostop per l'inferno, Dödens motorväg, Mirage

Description: A man who has just embezzled money from his company is driving through the Nevada desert. He picks up a pretty girl and her seemingly goofy boyfriend. The girl is a Las Vegas showgirl and the boyfriend turns out to be a professional killer, and he has no intention of letting the motorist finish the trip.
This is one production that deserves to be watched thoughtfully and attentively. Every piece of dialogue, even the smallest gesture, carries its own bit of symbolism, clues to the troubled lives of the hitchhikers and the confusion and mounting terror felt by their unwilling host. This movie accomplishes more with body language than others achieve with the most spectacular visual effects. Even minor characters like Robert Costanzo, who plays a tawdry Las Vegas mobster, and Jerry Orbach as his inconvenient operative, are fascinating and memorable.        ~ IMDB
Screenshots
Download