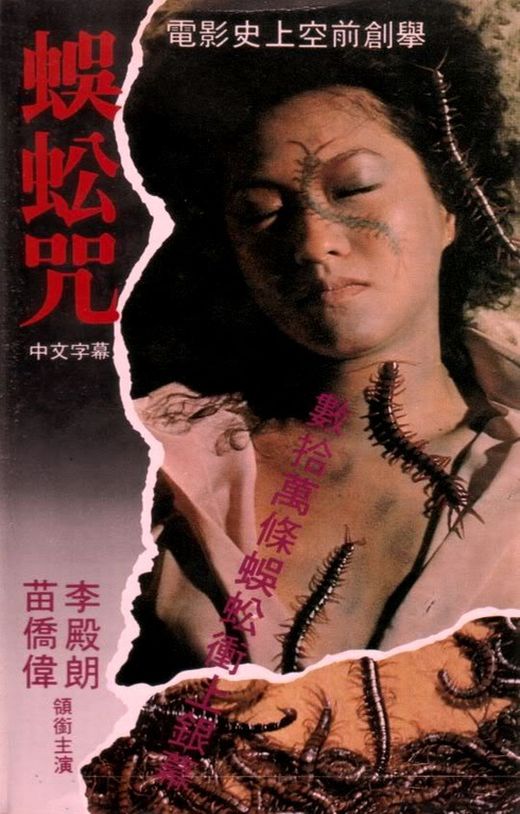 Year: 1984
Duration: 01:33:32
Directed by: Keith Li
Actors: Hussein Abu Hassan, Chu-kwong Chan, F.C. Chan
Language: Cantonese
Country: Hong Kong
Also known as: Centipede Curse,Wu gong zhou,Ng gung jau,Centipede Sorcerer
Description:  A crazed evil wizard uses his powers to take revenge on beautiful women by making them vomit up live centipedes, which then proceed to eat their victims.
An essential "sick" addition to every HK horror/dueling black magic monks collection
One of the all time nasty HK films, infamous scenes to make "bushtucker trials" look tame. Very nasty in places, look at some of the comments on imdb.com to see how much this has upset some people!
Review: The girl from Hong Kong sent to a sightseeing trip through South-East Asia. In the forest, it attacks many centipedes, and she gets to the hospital, fatally poisoned, and all covered with terrible bites. Her brother is trying to establish what happened, and soon begins to realize that someone takes revenge on his family for the terrible crime once committed by his grandfather. Now he and his girlfriend is in mortal danger, because sorokonozhe spell that applies Avenger, one of the most powerful, and very few people can resist him! ..
Screenshots:
Download: