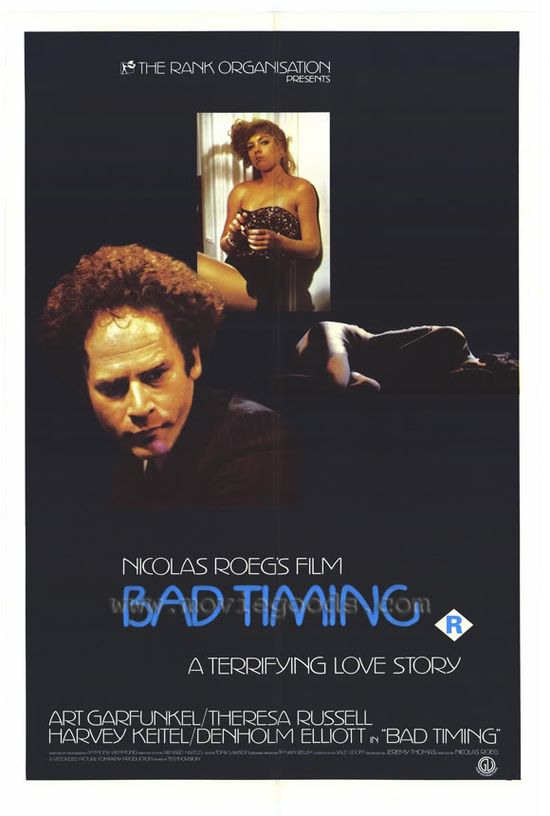 Year: 1980
Duration: 02:02:16
Directed by: Nicolas Roeg
Actors: Art Garfunkel, Theresa Russell, Harvey Keitel
Language: English, German/English Sub-Titles

Country: UK
Also known as: Bad Timing: A Sensual Obsession, Blackout – Anatomie einer Leidenschaft, Contratiempo, Enquête sur une passion, Fora de Tempo, I dynami tis sarkas, Il lenzuolo viola, Illusions, Kötü Zamanlama, Outo intohimo, Rossz időzítés, The Dark Inside, Zmyslowa obsesja
Description: Spring. An American woman Milena Flaherty was brought to the city hospital with a suspected suicide attempt. Inspector has been assigned to investigate this case.
He interrogates the lover of Milena, a professor of psychology Alex Linden. Alex recalls the story of his relationship with Milena. Where and under what circumstances, mad passion could turn into a no less frenzied hatred?
Review: British director Nicolas Roeg ("Do not Look Now," "The Man Who Fell to Earth") continued his visual experiments with human consciousness and unpredictable passions. The subtitle of "Sensual Obsession" that was given to the film "It's not the time" in the American box office, specifies that the main character is experiencing, psychiatrist Alex Linden, linking their fate with a young girl, Milena, who fled to Vienna from Czechoslovakia. Their relationship is so all confused and intertwined that defies analysis of even such common sense, as a psychiatrist, podnatorevshie in endless conversations with patients about repressed desires, sexual frustration, psychological incompatibility, etc.
But in his own life unbearable difficult to understand. How to understand where it ends and begins an obsessive love no less rabid hatred? Not the time – it is a constant difference in mental states, in terms of feelings, leaping from the cold irritation to unbearable sexual desire that you want immediately, perhaps in its crudest form, to carry out. Notorious psychoanalyst, apparently proud of that practice at home of Sigmund Freud, all the time gets out of time, trapped, tying the knot even tighter unresolved relationships. As almost always, Roeg, an agony of passion to mystical or mixed criminal and detective story. The viewer captured florid intrigue forced to unravel along with a police inspector Netusilom pretty tricky question: could a psychiatrist to kill her lover in a fit of delusion? Does he have a conclusive alibi?
However, you do not want to end decrypt witty, typically rougovsky final, when the inspector is already out in the cold, calculated over the alibi Linden, but the audience also begin to doubt that built the correct hypothesis: what if it all – just a figment of feverish imagination? It is possible that charade director this time too to be wise, though he admires the newly rich, generous and fine near supervirtuoznym installation. Interestingly, during the shooting of this film Englishman Nicholas Roeg first met with a sensual, passionate American Theresa Russell, who became his favorite actress in the 80s, as well as his wife, despite the significant difference in age – as much as 28.5 years!
Review #2: Bad Timing AKA Sensual obsession – is a constant difference in mental states, in terms of feelings, leaping from the cold irritation to unbearable sexual desire that you want immediately, perhaps in its crudest form, to carry out
Screenshots:
Download: