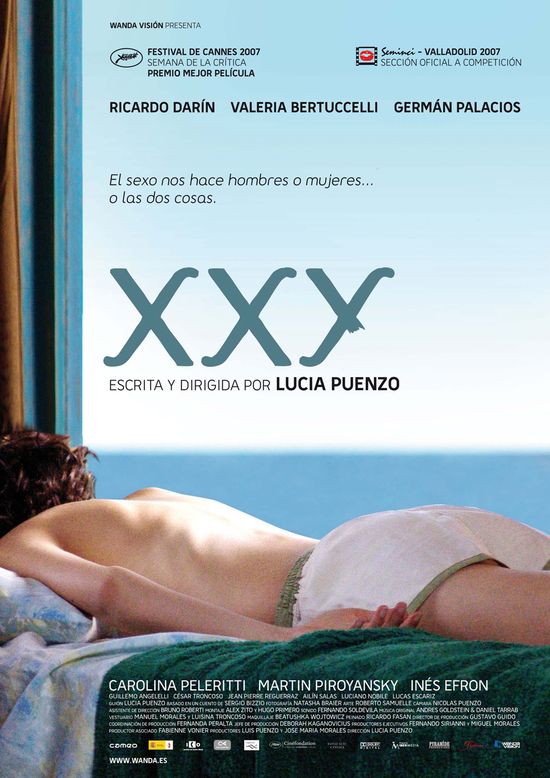 Year: 2007

Duration: 01:26:50
Directed by:  Lucía Puenzo
Actors: Ricardo Darín, Valeria Bertuccelli and Germán Palacios
Language: English
Country: USA
Also known as: XXY – Uomini, donne o tutti e due?
Description: The current science generally rejects the term "hermaphrodite", believing it to contain confusing and condemnation, and that only politically correct word "intersex". It is in this murky state of the heroine of the film (equally hero) 15-year-old Alex, who suffers from hermaphroditism from birth. Her parents are invited to their country house in the Uruguayan coast couple from Buenos Aires. And they bring with them a 16-year-old son, Alvaro.
Alex pulls this gnarly notorious youth. She wants to test his sexuality in the case and understand what she wants in sex. Their intimate contact will be a surprise to both parties. Alex is shocked by his awakening not feminine, but quite masculine, but maybe muzhelozhskogo instinct. Virgin Alvaro shocked by the fact that the act of sodomy, in which he was a passive recipient, and he suddenly liked it…
Review: Such accidentally discovered little-known films are always looking at your own risk, but the risk is, if only for the chance to discover something worthwhile. It happened with the drama «XXY». Provocative story – the story of fifteen, Alex, who is physically and a girl and a boy at the same time, her parents standing at a crossroads, and a teenage boy, for which a meeting with Alex is probably fatal in terms of self-determination – in this film is filed and at the piercing However sensitively. The director does not shock the viewer and does not cause him pain, as he does, for example, Kimberly Peirce in "Boys Do not Cry," and all the cruelty, the limitations and intolerance of others is not the first place, although it is present – even to the extent to which allows you to make the film realistic.
Lucia Puenso consider many other issues, from teen awareness of their sexuality to relationships between fathers and sons – but the main one is the issue of freedom of choice and freedom in general. The main character, Alex, like a stone, ground and sea winds, little vulnerable against the wild wolf, salted Argentine nature as a true free person every day by his act seeks to break the shell of prejudice, stereotypes and social pressures, the fears of parents and break out of the snare of his framework so called "abnormal." But the fact of the matter is that it is not normal for a wary neighbors of the old school, their children, thugs, and plastic surgeon, eager to quickly "to remove it all too much," as he himself seems to have removed, carved out of the heart with equanimity butcher love to his own son.
Screenshots:
Download: