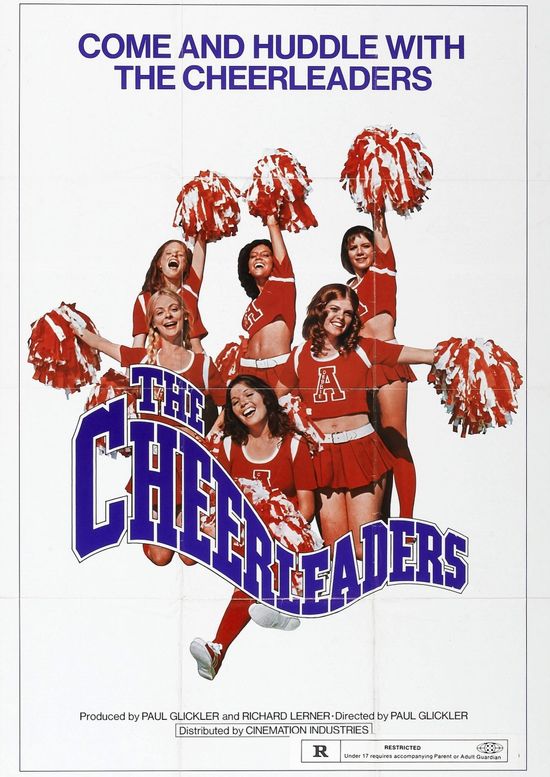 Year: 1973
Duration: 1:22:21
Directed by: Paul Glickler
Actors: Stephanie Fondue, Denise Dillaway, Jovita Bush 
Language: English
Country: USA
Also known as: À nous, les jolies majorettes; A Loucura das Colegiais; La pornopalla; Les cheeries font des ravages; Fans – Fans – Fans – Runter mit den Pants; The 18 Year Old Schoolgirls; Return to Montclair High

Description:
A group of female
cheerleaders
from
a local school
decided to support
his team
sleeping with
the enemy team
the night before the game, that would
exhaust
them
, what would they
lose.
"Cheerleaders"— cult movie in the narrow circles of connoisseurs of soft-core and probably the best film in the subgenre of explotan (although there should be added the notorious imho), which had its heyday in the ' 70s. The film became a hit of the rental in the distant 1972, gave rise to two conceptual sequel (The Swinging Cheerleaders and Revenge of the Cheerleaders) and a number of followers, and allowed to take the girls with pompoms prominent place among men's erotic fantasies.
I don't like this kind of erotic films in which the main emphasis is on sex scenes, and everything else to a certain extent. Better then porn to look at: it will be more honest, and, um, productive. But "Cheerleader" is really cool. It has its own unique, light atmosphere; unobtrusive humor, sometimes with funny words game; a lot of beautiful erotica (pretty innocent by today's hardcore days); and another very cool song "I like what you're doing to me", sounding in the opening credits and the ending.
Also is to praise the people responsible for the casting. Actress, list the names of which probably makes no sense, chosen sensibly. I won't say anything about talent and acting, but at least on their face look no less interesting than their bodies; they highlight.
Screenshots
Download