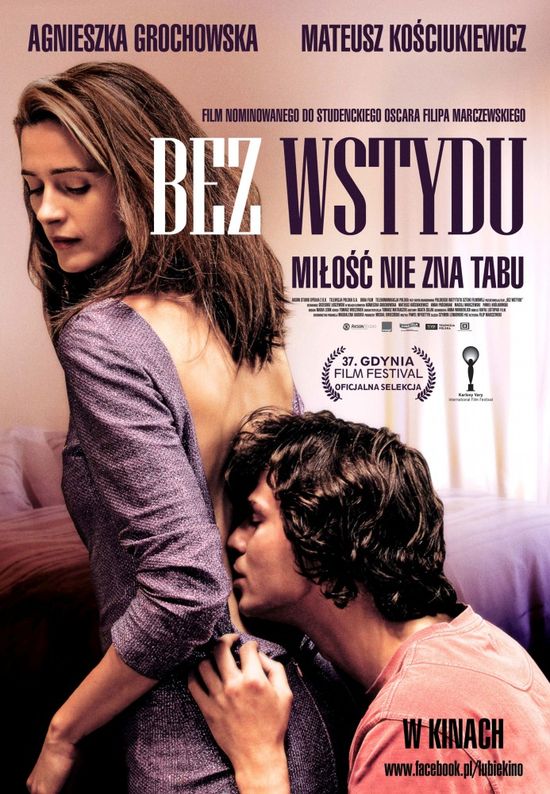 Year: 2012
Duration:  01:20:17

Directed by: Filip Marczewski
Actors: Mateusz Kosciukiewicz, Agnieszka Grochowska, Anna Próchniak
Language: Polish Subtitle: English (Embed)

Country:  Poland
Also known as: Bez wstydu
Description: After returning home, Tadek discovers Anna has had an affair with a married man.  
Incest drama Shameless (Bez wstydu) courts controversy as it tackles not only the overly-loving relationship between a young man and his older sister, but also links in Polish neo-Nazis and a Romany community. At times Filip Marczewski's film struggles to keep a firm grip on its stretched interweaving storyline, but the core story about brother and sister is always impressive thanks to strong performances by Mateusz Kosciukiewicz and Agnieszka Grochowska.
The film, which had its international premiere at the Karlovy Vary International Film Festival, is a stylishly made melodrama, though Marczewski never lets it slip into cheap sensationalism, instead letting the intensity between brother and sister to gradually develop.
Mateusz Kosciukiewicz (who took the Best Actor award at KVIFF in 2010 for his role in Mother Teresa Of Cats) stars as 18 year-old Tadzik, who arrives out of the blue at the home of his older sister Anka (Agnieszka Grochowska) for a vacation. It is clear from his lingering glances at her that his feelings are more than fraternal, but Anka is in the middle of a relationship with the slick leader of a local neo-Nazi group, and keen to keep her brother at arms' length.
Meanwhile self-confident local Romany girl Irmina (Anna Prochniak), who saw hunky Tadzik jump from a freight train when heading home, has taken a shine to him, and declares to girlfriends that she will marry him. Her father is setting in motion an arranged marriage for her, but her plan is to get Tadzik to notice her.
The Irmina and neo-Nazi subplots (the racist gang attack Irmina's family compound) actually get in the way of the core story at times and feel too contrived and poorly developed to convince. Which is a shame, because the central story of the sexually charged relationship between Tadzik and Anka is strong enough to carry the film. When the pair are on screen together, the film comes alive.
Agnieszka Grochowska is especially impressive as the older sister trying to leave her brother behind and carve out a new life. But as her circumstances unravel she is essentially worn down by the displays of affection by Tadzik. The sexuality is handled thoughtfully and shot in a non-exploitative way, despite the fact that there is a good deal of intense sensuality between the pair.
Screenshots
Download