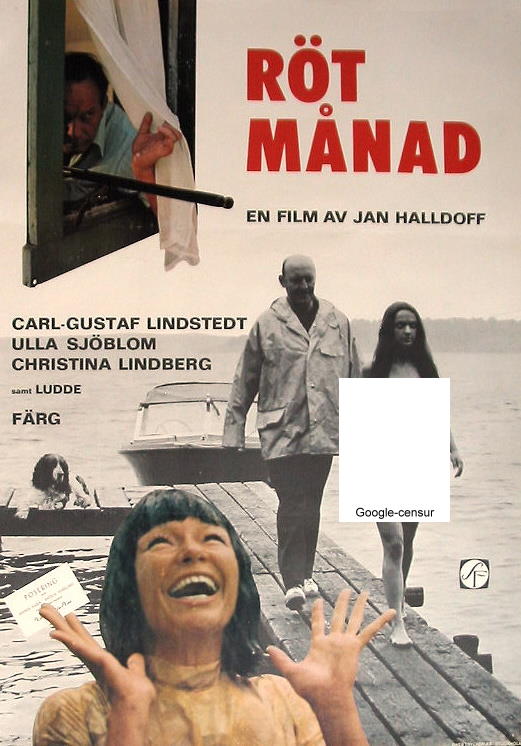 Year: 1970
Duration: 01:40:22
Directed by: Jan Halldoff
Actors: Carl-Gustaf Lindstedt, Ulla Sjöblom, Christina Lindberg
Language: Swedish
Country: Sweden
Also known as: Rötmånad (original title) | What Are You Doing After the Orgy? (UK)
Description: Assar lives in a small port with his 17-year old daughter Anna-Bella.
His wife that had been gone for quite some time returns unexpectedly and Assar can't resist her charms.
But after a while she starts up a brothel using photos of the young girl as bait for costumers.
But the girl is not really working there until Assar realizes he can make more money if his wife is no longer there.
 Review: What is the " Swedish family " is known to all . In large part, however, of the jokes – but in this case it is not so important. Especially because «Rötmånad» or " Dog Days" Jan Halldoffa just this same anecdote is. Only a very large, very black and very very Swedish … In the sense that this anecdote about sex. Just a big , black , erotic anecdote about a Swedish family Gustaffson , living in the quiet and seclusion on an island in the lake. It does not matter in this case that the father Gustaffson – classic goof – loser, unable to even score a nail without having to chop off his finger not . Absolutely nothing, that mother Gustaffson – aged prostitute nymphomaniac treats its quiet hating her husband. And it does not matter that her daughter – nymphet ( Christina Lindberg in all its buxom beauty) is the source of wealth of the family, which shamelessly sells her young charms everyone – who to see and who should he borrowed .
After all, this company absolutely can not do without adventure , all the forces trying to notify each other in many different ways : from drowning before placing the explosives. From time to time without much success – otherwise he would was not funny , and chest Fröken Lindbergh would remain without proper attention . But in the end all they get . Comedy is black – black bottom and a reason to laugh … add another pretty specific.
Taken all this mess in typically Scandinavian , psevdorealisticheskoy manner , the apotheosis of which will be a couple of decades later trierovskaya "Dogma " and gags of " Dog Days" , in other circumstances, would really show if not ridiculous , it is quite funny look sometimes frankly disgusting. If you are forced to laugh at dirty bum , wallowing in the slurry … Yes, it's a talented thing with perfect acting job Ulla Sjöblom Gustaffson as mothers , but to perceive all the muck and filth that store for the viewer Ian Halldoff need to have the character of " persistent , Nordic . " If you do not have those , it would be better to stay at some slasher with lots of blood , guts and brains smeared across the screen – not so nauseating is … And the people directors of these movies are somehow kinder than " any other Swedes . " And in fact , after such a short time and Gustaffson fall into depression , and before you know it , and at the end of the film continue to giggle quietly scaring relatives first , and then the good people in white coats. So , be careful with Swedish families , Scandinavian black humor and free love . All together this explosive mixture can give – not only house on the lake to take off the air .
But in fact , «Rötmånad» – movie good, good and clean … Scandinavian grayndhauz other fact and does not happen, is not it?
Screenshots:
Download: