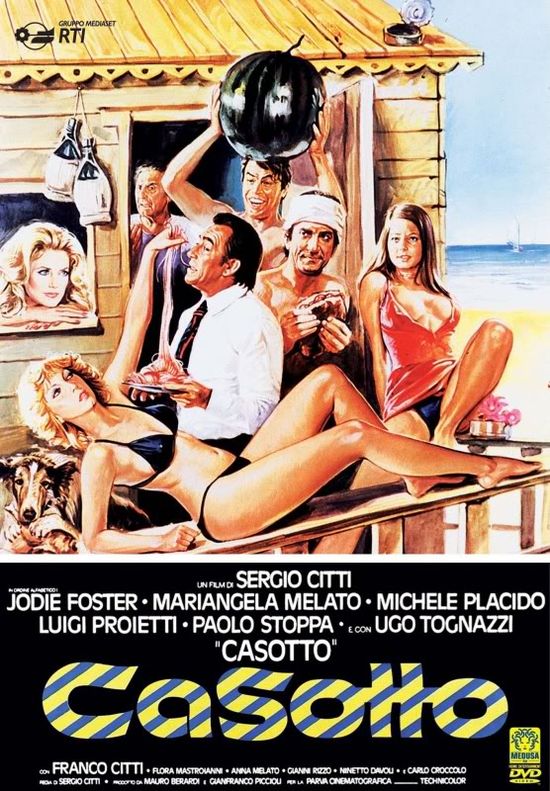 Year: 1977
Duration: 01:39:41
Directed by: Sergio Citti
Actors: Catherine Deneuve, Jodie Foster, Mariangela Melato, Michele Placido
Language: English
Country: Italy
Also known as: Casotto, The Beach Hut, In the Beach House, Strandgeflüster
Description: Summer Sunday at a small beach house at the coast of Rome. Many people and stories: women's basketball team, two sports-obsessed soldiers, two men with their girlfriends and the priest with a big secret, an elderly couple with their pregnant granddaughter, and engagemented couple wanting to have sex for the first time.
Review: A series of strange characters each rotates in front of the lens in the eye slyly peep camera, which initially focuses on the fact on which it is necessary to anyone who decides to look into the sly cabanas. But when the first curiosity is satisfied and all the individual anatomical details discussed with zeal visitor Kunstkammer, it's time for something more serious. In the end, the body – it's just a body, even if they belong to such a stellar characters. A beach for and is intended to show the bodies. But the same beach (or more precisely, a beach changing room) in Sergio Chitty slowly but surely transformed into the universe in miniature, and in a series of sketches about pop grows even slightly grotesque, but it is consistent and recognizable picture of real life.
Even the most ambiguous jokes on the anal-genital theme heard in the film Chitty Sergio naturally and easily, taking up as much space as they should be, given the scenario set the exposure. But much more attention paid to the traditional Italian comedy plots. For example, two stories without a penny to his name the girls waiting on their cavaliers only one thing – a good dinner, but then run up to as poor vagrant, on preoccupied protein diet bodybuilders. Or the classic sitcom about a greedy widow (Melatiah) svedshey to the grave of her husband, and now with his mistress trying to knock out money from the insurer (Tognazzi), who was also not born shit and come to a meeting in the steel trunks. Or almost neo-realist drama about a patriarchal Italian family, senior representatives of which are urgently looking groom her suddenly become pregnant granddaughter (Foster) and can not find anyone better than a village bumpkin (Placido), is frightened of the sea as well as women.
Screenshots:
Download: