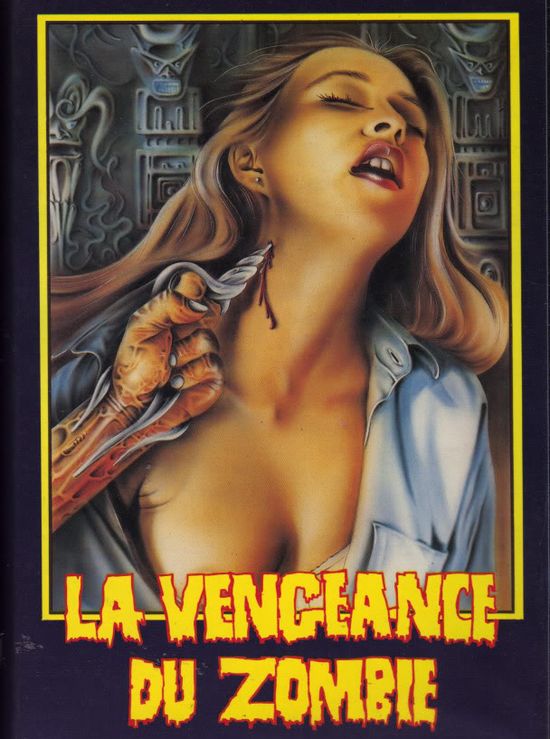 Year: 1974
Duration: 1:27:18
Directed by: Manuel Cano
Actors: Aldo Sambrell, Tanyeka Stadler, Alexander Abrahan
Language: Spanish
Country: Spain
Also known as: Voodoo Black Exorcist, La vengeance du Zombie

Description: A Caribbean prince falls in love with a married woman belonging to another tribe. In the ensuing opposition to their romance, he kills her husband in self defense. As punishment for his act, he is turned into a voodoo mummy locked up in a wooden sarcophagus. In a twist of fate, the mummified prince finds himself years later on-board a luxury ocean liner where one of the passengers is a reincarnation of his former flame. Carnage ensues as he goes about wrecking havoc among the other passengers.

While Aldo Sambrell was the perfect choice to play a minor character heavy in crime thrillers and westerns throughout many a European production over the years, the thought of casting him in the lead role of a resurrected Haitian voodoo priest in an a bloody Spanish modernization of THE MUMMY seemed like a questionable move at best. And once you see Mr. Sambrell in blackface at the beginning of this film, you'll either laugh or cry. But even that laughable sight won't prepare you for multiple decapitated mannequin heads (poorly filling in for their human performer counterparts, ironically still doing a better job of acting in the process), some good ol' boobage, and that epic moment when the camera and its operator decide they need to be in the picture, too.
Retitled to cash in on both the Exorcism and Blaxploitation subgenre crazes of the mid '70s, the rechristened VOODOO BLACK EXORCIST is a false advertising lawsuit waiting to happen.
Screenshots
Download