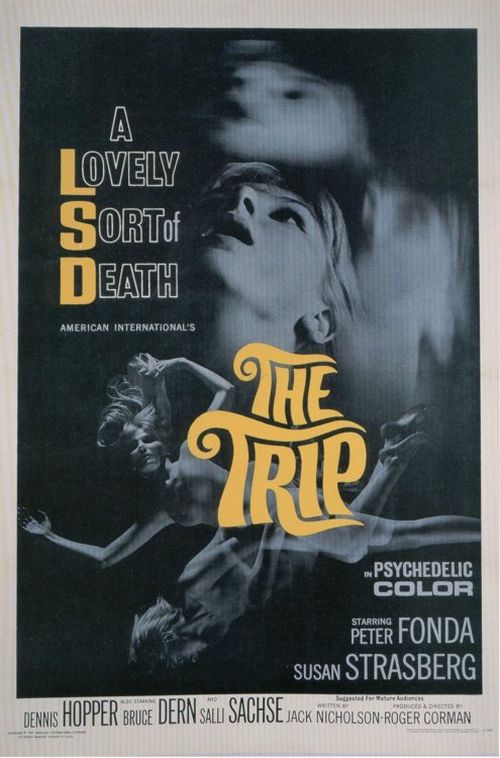 Year: 1967
Duration: 1:19:22
Directed by: Roger Corman
Actors: Peter Fonda, Susan Strasberg, Bruce Dern
Language: English
Country: USA
Also known as: A Lovely Sort of Death, A Viagem, Amartolo taxeidi
Description: Picture opens a scene in which the director of television advertising quarrels with his wife, which is going to divorce him. Frustrated by personal turmoil, he travels with a friend in a whimsically painted house of hippies selling drugs to buy a LSD. So begins the trip …
Review: From the first frame, the formidable and warning voice, classic American announcer reads the text scrolling across the screen about how horrible LSD and other drugs, mind-expanding, that they are everywhere, and that now you will see a shocking film about the truth about LSD.
Perov, that may be interested in this tape modern viewer (except theme, of course) – is a script, written by Jack Nicholson. And, of course, everyone knows how during the filming of "Easy Rider," he and the other actors present smoked marijuana, but in the 21st century, it will surprise nobody. But to know the history of autobiographical controlled LSD trip – is another matter.
I must say that I believe Jack. With non-fiction film in terms of more than believable (except for some scenes of an imaginary hero's journey, which, on the other hand, at high doses, psychedelic, adopted them, doubtful should not).
Peter Fonda, who plays a major role, too, looks like a man well versed in a given topic. He is surprised, frightened, laughing and crying as if there really was eating acid before each scene. Stanislavsky, can, and shouted to her "do not believe", but he was never a hippie.
At the very beginning of the film the main character, works as a director of advertising, find out the relationship with his wife, whom they divorced, and then sent to the ornamented rainbow hippie abode, where my friend buys a capsule with an acid.
«Have a nice trip» – he heard from an unknown girl, and the journey begins. There is no point to repeat everything that happened afterwards, because that sense – is not there. In this movie, and the idea is almost non-existent, it's more like visualized, well delivered and transferred experience. And yet – well shot and well mounted. Where the hero climbs the imaginary rock and psychedelic spinning in carousel, where he is not haunted by fear in the form of the Nazgûl, and where he is not haunted by the fire dwarfs – in short: where no scenery – delight the viewer kaleidoscope and lumiere superimposed on the body actors.
I confess that, remembering the special effects of the sixties, from the visual part of the movie I was expecting less. But painstakingly assembled from tiny fragments of short frames, painted bodies, overlays, distortion and transformation – this film looks incomparably better than in the psychedelic videos of the time.
That's got another plus in the treasury of Roger Corman – he was at the height (or on acid?). The film is hardly a masterpiece, but bad things about him to say nothing. Actors as possible, the visual part – incredible, music – good and the topic. But as for the music, in the late sixties, I think, to find suitable music for such a film was not a problem. Anyway, the movie worthy familiarize all interested in the sixties, acid, or Jack Nicholson.
Screenshots:
Download: