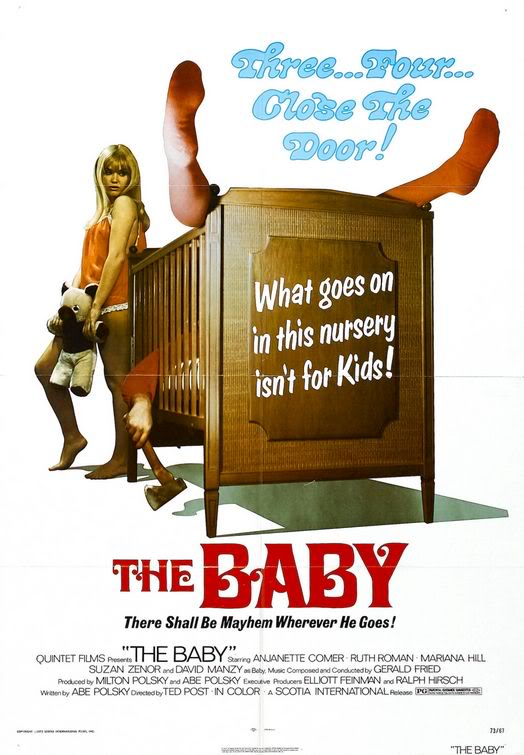 Year: 1973
Duration: 01:25:07
Directed by: Ted Post
Actors: Anjanette Comer, Ruth Roman, Marianna Hill
Language: English
Country: USA
Also known as: Jaula sin techo, To moro tis frikis, Baby, Dehset çocugu
Description:An employee of social services Ann gentry sent in one family, to investigate disappearances of employees, which the company previously sent to them. Widow, Mrs. Wadsworth and her two daughters, Germain and Alba, living under one roof with a mysterious child, Baby. This is a 23-year creature that is still sitting in the crib, cannot walk and talk, and only cries. Baby crawling around the house in diapers and drinking milk from a bottle. Ann impression that the family does not even try to improve the condition of the mentally retarded Kid. Ann sees the potential for the Baby, talking to him, teaches him something and wants to send the hospital, but the family categorically rejects this offer… Filmed by director of Endgame and Teenage Hitchhiker movies
Review: Looking at the poster, depicting a playpen from which sticks out is clearly not a child's hand with an ax , and awesome slogan " Pray do not know the secret of Babe ", you can take «The Baby» for another slasher , where moronic freak of nature according to the laws of the genre reduces the number of healthy young people who have had the misfortune to run aground near an abandoned island without cars or stay in the deep woods , like «Humongous» ( 1981) or «Camp slaughter» ( 2004). It seems that the authors intentionally mislead potential audience: the brutal and senseless slaughter horny teens in the eyes of the audience itself look more attractive , and therefore in the eyes of the producers – much more profitable than the heavy psychological drama , which, in contrast to the dull slasher not entertain and teach the audience, make them think , to empathize and experience . So, "The Baby" – it's not slasher , and a drama about two unhappy people. One of them, "thanks" to all of a sudden happened in her life terrible tragedy , learns of the existence of the other, and is the first to attempt to put an end to his many years of suffering.
The advantages include the unusual paintings , original storyline , realistic of all events ( this could happen in real life , and maybe anywhere now the case) , excellent acting work , morbid atmosphere (atmosphere created by sick people , such as the family of Wadsworth by definition can not be healthy ) and just ending. On the downside – and for a horror film is undoubtedly a negative – that all murders are committed by frame.
Despite the fact that the " The Baby" is considered a cult , he did not become widely known , and no wonder – a non-profit film and a rather peculiar, for everybody. The movie is not for everyone. Other movies. Score is not set , as the ten-point scale is not enough .
Screenshots:
Download: