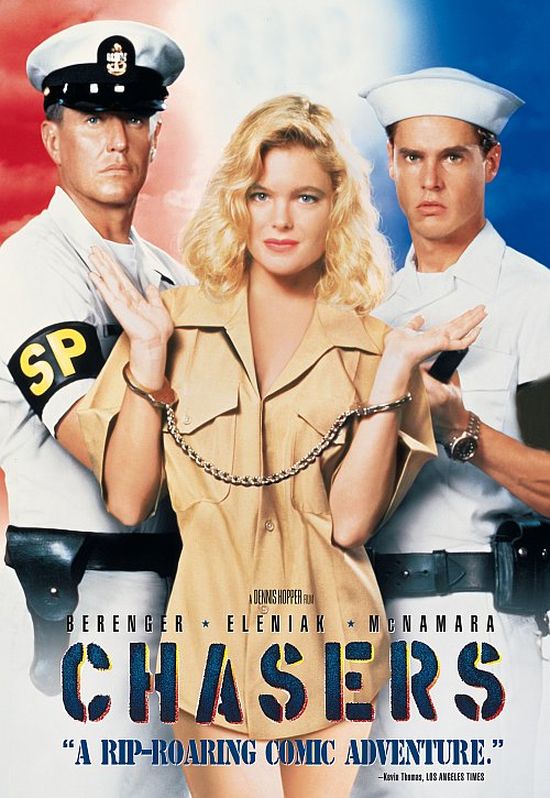 Year: 1994
Duration: 01:36:54
Directed by: Dennis Hopper
Actors: Tom Berenger, Erika Eleniak, William McNamara, Crispin Glover
Language: English
Country: USA
Also known as: Chasers – Zu sexy für den Knast, Kuka sieppaa kenet, Una bionda sotto scorta
Description: Beach Patrol officer Navy Rock Reilly thought he was beyond surprise. His team-mate Eddie also all fed up, and he is thinking about leaving the army. But they still had to wonder, they felt themselves like youngsters, when met with Navy Lt. Tony Johnson, beautiful and absurd woman, who was also a prisoner, whom they supposed to deliver to the base.
Delivery should take place according to army order. However, Tony is going by all means to break free …
As for the film Chasers, it's a mildly passable comedy drama directed by the late, great Dennis Hopper (The Hot Spot) that involves Tom Berenger (Fear City) and William McNamara as naval veterans transporting a female prisoner (the very sexy Erika Eleniak) to a military stockade…
Review: Sly and roguish young man Eddie Devaney (William McNamara) during service is not too hard, and as additional income hunted Stock sale of state property. And when was the day before his retirement last fall Service task. He goes to the Navy veteran sergeant Rock Reilly (Tom Berenger), and together they have to escort a war criminal by the name of Tony Johnson, who faces 7 to 10 years in prison. But now it turns out that Tony Johnson is an attractive girl (Erika Eleniak), that does not make it less dangerous and imaginative. And so the journey is going to be very fun.
"Chasers" – and good quality filmed comedy. One of the main evidence for this is the fact that the author of the idea and the movie is directed by Dennis Hopper (a brilliant actor, director, writer, editor, photographer – a living legend of Hollywood), and this means that the story will be sensible enough and everything will be filmed at the proper level. And so it happened: the plot, though simple-minded, but not stupid, and the film looks with interest. To picture also no claims, it is clear, rich, with lots of beautiful scenery and realistic scenery – The external component celebrate. Of course, it should be noted that in the film a lot of action, it is very dynamic and looks very easy and relaxed.
Casting is also on the level. Tom Berenger as severe a hardened veteran William McNamara as his young partner is strong. They are well embodied their characters. The film was featured and Gary Busey, had a small role, but playing as usual, is very noticeable. Well, most clearly in the movie Erica Eleniak. She is attractive, it is very charming and has become a real gem of this film.
Screenshots:
Download: