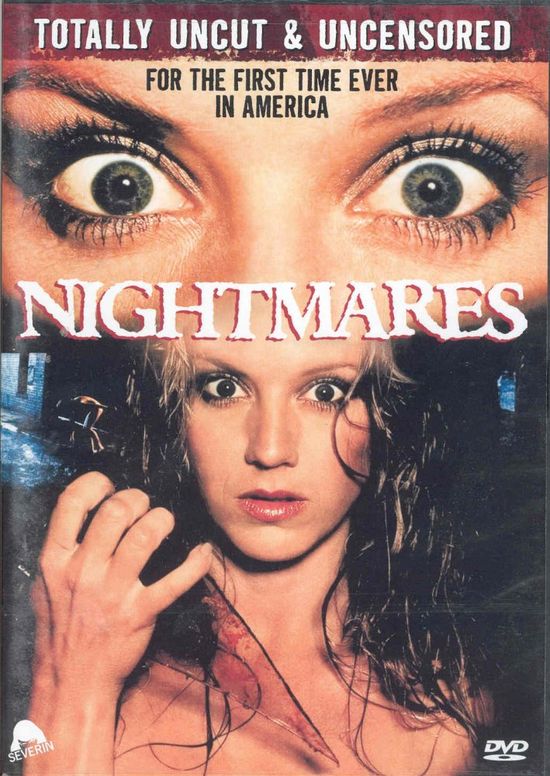 Year: 1980
Duration: 01:19:26
Directed by:  John D. Lamond
Actors: Jenny Neumann, Gary Sweet and Nina Landis
Language: English
Country: Australia

Also known as: Kathreftis vammenos me aima; Nightmare on the Street; Nightmares – Incubi; Pesadilla; Stage Fright; Terror a medianoche
Description: American actress in Australia Helen (Jenny Neumann, HELL NIGHT) auditions for a Victorian stage comedy by a vitriolic director (Max Phipps, THIRST). Her relationship with one of her co-stars (Gary Sweet) is hampered by her traumatic memories of seeing her mother killed when she was a child. When someone starts slashing through the cast with shards of broken glass, could it be one of her melodramatic castmates? Scripted and edited by the late Colin Eggleston (LONG WEEKEND, FANTASM RIDES AGAIN), there is really no suspense to be had in the rather obvious script but we do get some vintage Australian sexploitation levels of nudity and some fairly brutal slashings. Attempts at red herrings fail and even two years after HALLOWEEN the steadicam roamings of the killer's POV seem obligatory (murderer takes forever to creep up on victims). The scope formatting makes the proceedings a bit more interesting (a few passable Australian horror films made around this time benefited visually from the use of the Panavision format) and there are some nice delirium montages and triggered memories. Brian May's score is undistinguished compared to his lush work on other Austraian horror films of the time. Briony Behets (LONG WEEKEND) co-stars.
Directed by John D. Lamond, who also filmed a flick Felicity
OZZIE TRASH-HORROR, NIGHTMARES (aka Stage Fright) STARRING JENNY NEUMANN, GARY SWEET, NINA LANDIS AND MAX PHIPPS. LOTS OF SLEAZY SOFTCORE SEX, FULL FRONTAL KILLINGS AND THE PLAY-WITHIN-THE-MOVIE IRONY IS ALL YOU REALLY NEED TO KNOW. OZPLOITATION AT ITS TRASHIEST WITH A NICE AMOUNT OF BLOOD, BOOBIES AND BUSHWACKERS!
Screenshots:
Download: