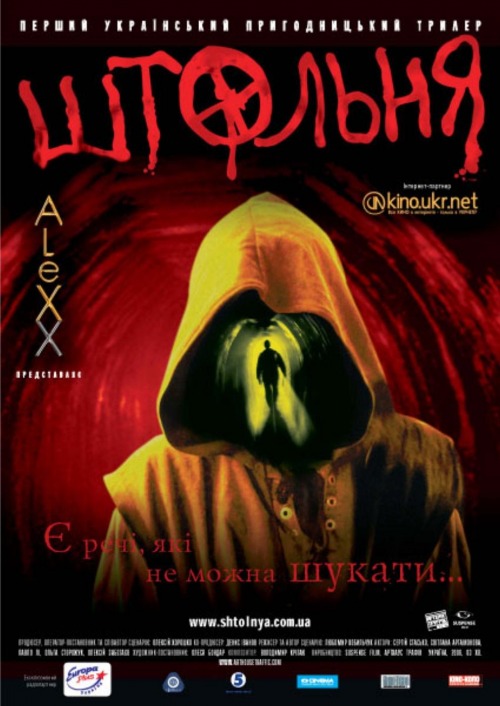 Year: 2006
Duration: 01:20:05
Directed by: Lubomir Levitski
Actors: Svitlana Artamonova, Mykola Kartzev, Pavlo Li
Language: Ukranian | English subtitles
Country: Ukraine
Also known as: Shtolnya (original title)
Description: Some archaeology students go summer camping to an excavation site. This is a field trip where they must attempt to make they're own discoveries. They fin the entrance to an old abandoned tunnel system. As they cross deeper into the turns of the tunnel they find they have become lost in a labyrinth. The tunnels lead to a pit, considered a myth by most archaelogists. They see the evil omens that are before them but venture towards it as they seek a way out. They will be faced with the mysteries of the pit only to discover some mysteries are to be left unanswered!
Review: So we face the brainchild of Ukrainian cinema with unknown actors, Directors, composers, etc. Ukraine tried to prove that it still can take quite fashionable and stylish youth thrillers. Well it turned out quite convincingly.
Five students descend into the aid in search of his suddenly missing Professor. And here, strange things begin to happen. And then the story develops according to the standard scheme middle of a Hollywood Thriller. As usual suddenly lost all the right things, sits the battery in the phone ends provisions and went. Someone is lost, someone come, someone will live happily ever after. So many movies have been filmed on this subject, how many said. But no, still continue to shoot. The good thing is: this is not another brainchild of the American film industry, and the Ukrainian, that is practically our own, and therefore have the opportunity to see something new and closer Russian soul.
Actors are young and unknown, but it is quite talented. Play nice with enthusiasm, sometimes, of course, rather odd, but it is not the world stars, and therefore can be forgiven. I want to commend the excellent camera work and work with light. Unlike its foreign analogues, where descent into some dungeon means hopeless darkness, there is light and you can at least to see someone that cut off and where was shed someone's blood. And in the end, when the titles, we are going to have a great song in the Ukrainian language.
Result: In General, Shtolnya happened to be very fast, long story goes on, the film is short and boring, and I could put 10 points. But one point have to fold. Still, the story is as old as the world, they could make something new.
Screenshots:
Download: