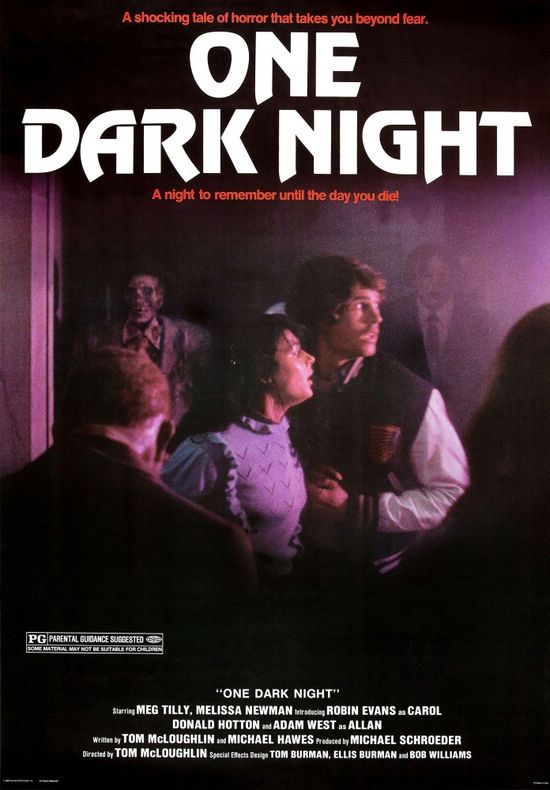 Year: 1982
Duration: 01:28:58
Directed by: Tom McLoughlin
Actors: Meg Tilly, Melissa Newman, Robin Evans
Language: English
Country: USA
Also known as: Entity Force, Night in the Crypt, Mausoleum, Rest in Peace, Numa Noite Escura, Zombies – yön paholaiset, Nuit noire, Dark Night, Night of Darkness, Criptas, Når de døde våkner, Jedna ciemna noc
Description: After the strange death of a Russian occultist Karl Ramanavichy, when life exploring all sorts of dubious ways of achieving power and omnipotence, his tomb is a schoolgirl Julie. It is here at the whim of her friends, who decided therefore to dedicate it to my secret society. Julie you want to spend in the crypt of the night… with and addressed by the Ghost of Charles.
Review: A charming film from the author of the sixth part of the "Friday the 13th". The film, which, I dare to assume, was not only a type of "Return of the living dead", but slasher like "Buried". In the center of the plot – dark-dark cemetery crypt, in the womb which is hidden a lot of terrible secrets, dark-gloomy cemetery, which is something really terrible and mysterious. Will be really a lot of horror, but the horror that flavored good black humor. Nothing like? But this is hell, 1983-th year. There were no us, even our fathers and mothers. I proceeded to get acquainted with "One dark night" with some trepidation. Still, nearly 30 years ago, "fillmoreeast" obeyed different laws. Or not? Judging by this film, then don't. No repeating. The humor is perfectly blends with Gothic atmosphere, cemetery locations matched perfectly. Not to mention the cast. Each character is brighter than bright. Missing moments when it is time to forget about what's on the screen – a relic comes from the 80-ies of the last century.
There were, of course, and without charming melodramatic lines, amazingly naive and just as cute. However, it does not seem excessive. "One dark night" looks with sincere interest with his first minute to the last, making the modern audience to forget about when actually was filmed this movie. Of course, only if he, the viewer, do not prefer a good steak popcorn and a good movie is mediocre Hollywood blockbusters in the "three DS". If you have no aversion towards very old and low-budget films – take 94 minutes to get acquainted with this tape. Believe me, it's worth it.
Screenshots:
Download: