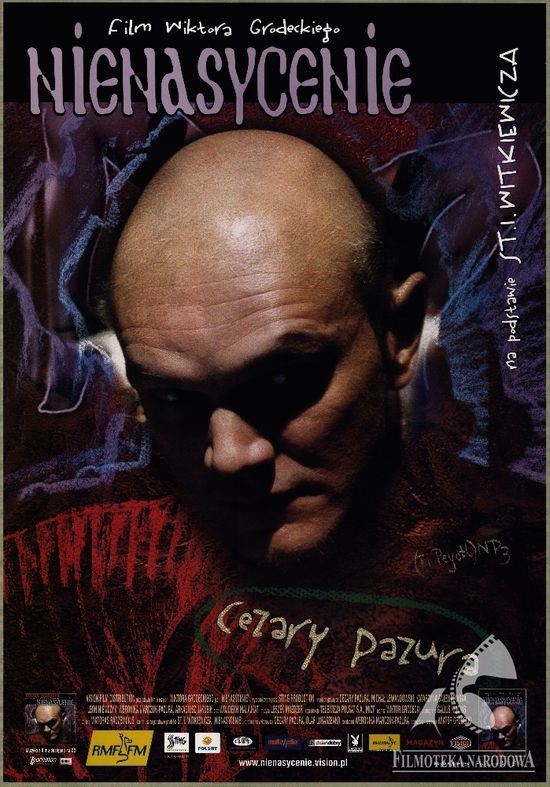 Year: 2003
Duration: 2:03:38
Directed by: Wiktor Grodecki
Actors: Cezary Pazura, Michal Lewandowski, Katarzyna Gniewkowska
Language: Polish(English hardcoded dubs)
Country: Poland, Lithuania
Also known as: Nienasycenie (original title), Insatiability

Description: The action of the film takes place in a fantastic setting: after the Chinese conquest of Poland.
Review: Trying to adapt Nyeniasycenie (Insatiability) to the film medium is no small feat. This is one of the greatest novels of the 20th century, and one of the great "dystopian" novels, in the tradition of Orwell and Huxley. Funny thing is, Witkiewicz not only wrote this one before those two blokes, his terrifying vision of the future is much closer to our current reality and god forbid what is still to come than those other two.
Naturally a film adaptation of this forgotten masterpiece makes one's mouth water. But alas there are problems. The book is insanely dense, complicated, and most aptly 'hallucinogenic'. It does require a mad genius of a director to realize this vision.
Unfortunately Grodecki is not up to snuff.
This version has a great cast, excellent actors, great soundtrack, incredible art direction, and yet… it's flat as a pancake.
Grodecki makes three terrible and unforgivable mistakes.
1. The film Nienasycenie  (it's english title is Insatiability) is played on one note and one note only. There are no ups, downs, or anything in between. It plays in the same tempo and same delivery and same tone throughout the 2 hours. This is not only bad in general, it is in complete opposition to the point and structure of the book – about Zip's "development" and degeneration.
2. The director is excessively obsessed about the homosexual sex, s&m, coprophilia and other naughty bits. This is important stuff in the context of the book but not at the expense of the main details, such as…
3. … the Murti Bing pill which does not gain any attention in this film until the last 30 or maybe even 20 minutes. This omission of one of the most central themes of the book is inexcusable.
Furthermore, why did he cast Poles/Europeans as the Chinese officers? Political correctness? It's quite sad because he COULD have done a good job but seems to have gotten a bit too obsessed with a gay sex element that actually occupies about less than 5% of the actual story line and also neglected the other MAJOR aspects of the story. Witkiewicz may have been weird, into drugs, an alcoholic, bisexual etc which would make him "anti-establishment", in our contemporary definition of the word right? Wrong. He was an ardent nationalist, a Spenglerian pessimist, a true individual and he was very un-PC and didn't give a damn. Censoring him like this is plain awful dishonest and wrong! Fans of Witkiewicz like myself will enjoy seeing this thing visualized (as mentioned the casting and art direction are unbelievably good) but we will have to wait for a real full blown version that is as daring as the original work.
Screenshots:
Download:
Insatiability Nienasycenie(original title) 2003 | Free Download