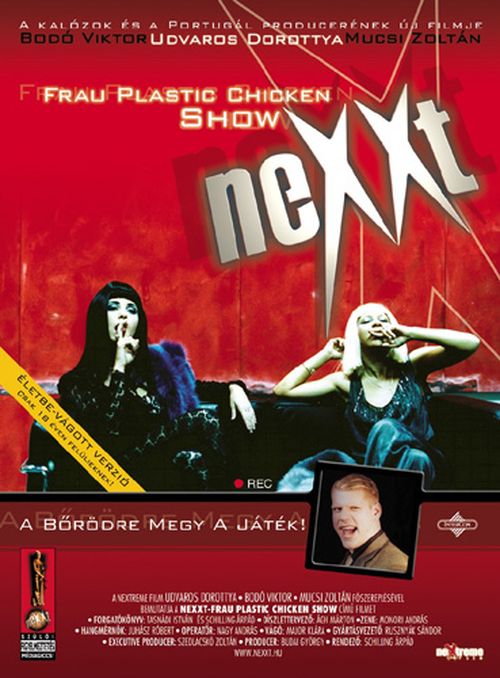 Year: 2001
Duration: 01:22:42
Directed by: Árpád Schilling
Actors: Dorottya Udvaros, Zoltán Mucsi, Viktor Bodó
Language: Hungarian (English sub)
Country: Hungary
Also known as: Frau Plastic Chicken Show
Description: So far it's one of the most scandalous and antinomic Hungarian movies ever made.
It's a bizarre satiric comedy and it was presented on the Hungarian Movie Week that year. So many people were shocked at the brutal scenes and bare style.
The story is a mix of American Psycho, A Clockwork Orange and the author-director's own ideas, so partly stolen, simple but original everyhow.
This is the censored version and it doesn't contain some brutal scenes. More than half an hour (!) is missing from the originally, uncut, 116 minute movie  – but yet there are some 'not too presentable' actions in this version –
It hasn't been released yet on DVD – and unfortunately, the uncut version is not available too
It's not an amateur movie, a lot of famous Hungarian actors play in it. On the other hand, one of my favourite Hungarian movies but I know in Hungary many people can't understand this movie, many people hate it, but many people think it's an art film.
The story:
Frau Plastic Chicken is the host of a popular exploitation television show called NeXXt, which serves up a variety of deviant behavior for the amusement of her viewing audience. While the hostess has arranged for a live broadcast of the arrest of Rex Madison, a notorious multiple murderer, Frau Plastic Chicken wants something even splashier for her audience, so she schedules a post-arrest interview spot, in which Madison will discuss his crimes with Alexander Grushkin, a man who claims to have been the inspiration for the character of Alex in the novel A Clockwork Orange. Since Grushkin is a good bit more serene these days than he was in his youth, Frau Plastic Chicken decides to first take him on a trip down memory lane, recreating the notorious 'Ludovico Treatment' by strapping him to a chair and showing him sickening films of two women being beaten and murdered…At the end we can see the moment of truth, the 'confession competition', in which the main prize is the clemency.
Screenshots:
Download: