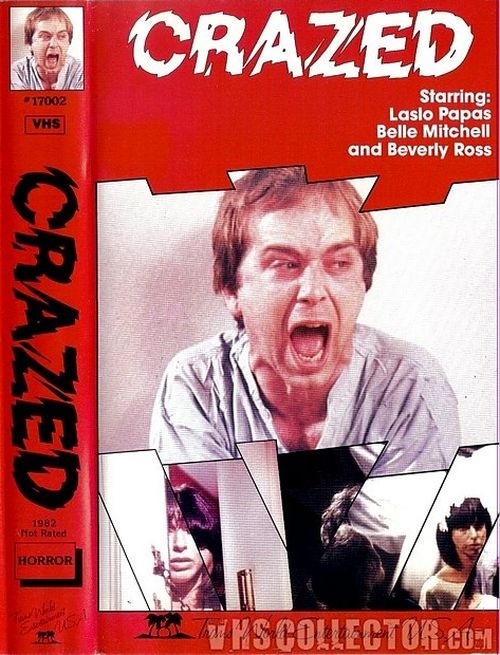 Year: 1978
Duration: 01:30:09
Directed by: Richard Cassidy
Actors: Laszlo Papas, Belle Mitchell, Beverly Ross
Language: English
Country: USA
Also known as: Blood Shed, Slipping Into Darkness
Description of Crazed movie:A young writer/college student suffers from diabetic seizures, her boyfriend recommends she move into a boarding house in case of emergency, if he's not there when she has another episode, she'll be around other people.
She meets a real cast of characters when looking around for a place, including the snooty lady who puts plastic on everything, the shirtless bearded slob who offers sex in exchange for rent, and the topper, the crazy gross lady who says "okay" after every sentence, picks her toenails with a toothpick, then puts it back in the dispenser (gag), she says one line that steals the fuckin show "See those books? I wrote them all, okay? Punching Genitalia and Throbbing Clit were best sellers….in certain circles…okay?"
She finally finds a place run by a nice little old lady who likes to talk alot, one of the tenants, Grahame has peeping problem, not to mention frequents hookers, has deep embedded psychosis from his childhood and his time in the army, did I mention he has a short temper?
He takes a liking to the new tenant, to the point of obsession, then one day his luck changes, the girl has one of her seizures while taking a bath and drowns, and Grahame finds himself a with a new fleshy love-doll….I mean pose-able girlfriend….I mean bride to be….you get the picture.
Soon after, nosy tenants start poking around and Grahame has to snuff them out, to keep his fantasy & decomposing lover a secret (smell? what smell?)
Not a bad 70s indy horror/thriller about necrophilia, voyeurism, attempted rape and other salty subjects.
Nudity, Blood, Peeping Tom Weirdo, Strangulation, Multiple Stab-Wounds and a Stinky Girlfriend make for an entertaining hour and a half.
Screenshots:
Download: