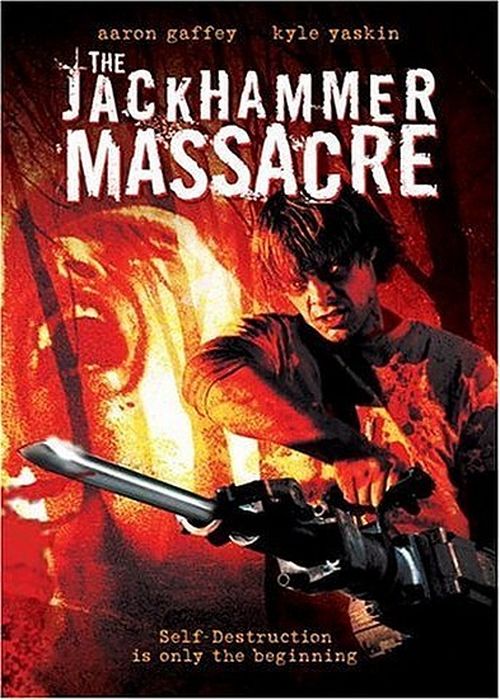 Year: 2004

Duration: 01:29:37
Directed by: Joe Castro

Actors: Aaron Gaffey, Kyle Yaskin, Nadia Angelini

Language: English
Country: USA
Also known as: Jackhammer
Description: Fallen addict Jack gets a job working as a watchman at the warehouse. One night it comes to the lender Roger with the requirement to give the old debt. Making sure that the money Jack's still there, Roger decides to punish him and gives the debtor a lethal dose of the drug. However, instead of having to die, Jack is going crazy, armed with a jackhammer and starts killing everyone who comes to his warehouse.
Review: Now when I first got this my other half asked me "how does he go around killing people with a jackhammer…?" he kills them all in an industrial warehouse. Now this piece of bloody crap is by no means Gone with the Wind so don't expect Oscar worthy performances. There's plenty of blood and gore, some dark humor and some WTF moments. It's been a while since I watched it and i can't remember is there's any titage. 7 stars out of 10. It knows what its not and doesn't shoot for the moon but it knows what it is and revels in it.
Joe Castro , familiar to me one film – namely, the "Summer of Massacre" making films in the genre of thrash metal , with most of his paintings look very simple, but the whole point of his films is mashing that goes on there. The problem of trash to make an impression on the viewer , not only original ideas , but also the originality of the characters and methods of disposing of the victims . He is quite good at it , although sometimes it is repeated , and krovischi and murder is not enough. I watched this movie not only because of the director, but because of the interest, namely by looking at the name of the thought that the main character is a sledgehammer to kill all healthy , just say " hammer" . But when you view it turned out I was wrong. In the hands of the protagonist turns out to be a weapon in the form of a jackhammer , and although I did not read the plot of the movie , I decided to look this way and understand the whole picture of the situation on the go, in the story was told about it . It can be said that the idea of ​​such a standard , but if you look at it better just bad.
In the story , the protagonist , a guy named Jack Magnus , who suffers from drug addiction . He gets a guard at a large warehouse to somehow get away from their addiction . Especially because he has and his grief , his friend named Mike had previously died from what is not calculated the dose of drugs . And now his ghost comes back to Jack . But then all of his already heavy and intense life abruptly collapses because of the fact that once the warehouse lender comes to him , Roger , who asks to pay his debt . But Jack has no money , he recently got a job . Angered , Roger decides to take revenge on him , and does it with a strong dose of drugs , puncture them to Jack. He believes that he die, and then the dose was lethal , but not all changes dramatically in favor of "smart" lender. The consequences will be dire.
With a choice of character, which is entrusted to deal with many of the victims, I think it is not missed. Because a former addict who now suffers from addiction , and even a lethal dose of the drug, which was supposed to die but survived , and even with a jackhammer in the bargain if we represent a lot to " fun " get up . He has constant hallucinations, it is practically nothing to fear, and if they see a stranger in the warehouse , immediately missing his gun and runs into battle. The idea seems to be very simple, and the story too, but it is very good that the creators added there additional ideas . For example, Jack's past , the story of how he became a drug addict . In my opinion, if it was not, it was not looking so interesting. This genre film goes well, they can watch fans of such films .
Screenshots:
Download: