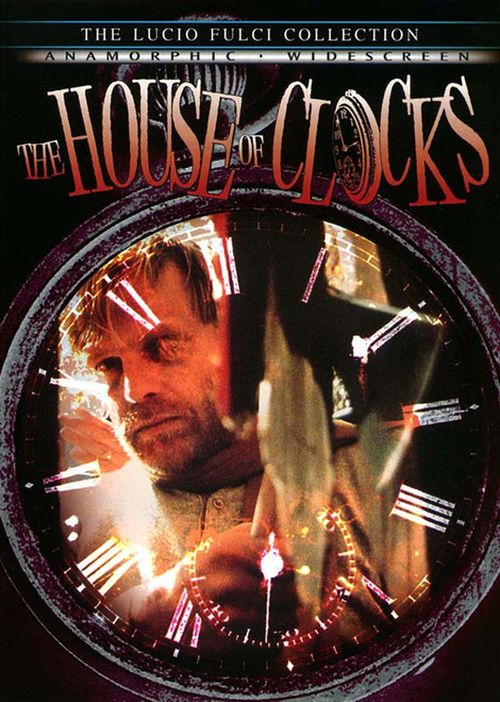 Year: 1989
Duration: 01:23:41
Directed by: Lucio Fulci
Actors: Keith Van Hoven, Karina Huff & Paolo Paoloni
Language: English
Country: Italy
Also known as: La casa nel tempo, Die Uhr des Grauens, Dom zegarów, O thanatos erhetai ta mesanyhta
Description: Rich and seemingly innocent elderly couple living in a huge mansion. Old man enjoys clock – every room of the house lined with clocks of various kinds. On the farm helps them gardener … Once, a group of young thieves, gets into the house. In the course of a robbery accidentally killed himself old gardener. None of the robbers did not notice that the clock is stopped and restart it, but in the opposite direction. Events turn back, and the corpses start to come to life …
Review: The couple lived in a handsome old men big and wealthy house, where a lot of antique furniture, paintings and tableware hours. Clock – master passion. They lined all the rooms, a variety of clocks: wall, floor, table, sand, pocket. And every day the old test and debug them. His wife is dug in the greenhouse, because plants are often attacked by pests and parasites should always destroy – this is their life motto. The parasites they are used to get rid of easily and without emotion, whether it is a bird has flown into a house or an idle servant.
Trinity frostbitten rascal (two boys and a girl) decide to rob God of the two dandelion, putting them easy prey and oily. But the elderly have to defend themselves, to help them threw a gardener, shooting began, and the elderly with the gardener were killed. Frightened at the turn of the trio did not notice that all the clocks in the house stopped. Attempting to leave the house failed – owners lowered the yard dogs, and the robbers were trapped. Hanging out at home, waiting for the morning, they did not notice that all the clocks went back. That's just the arrow is now rotated back. Time flowed back, the dead come to life and began to hunt for his killers. After thieves – are parasites, and we should get rid of parasites. And since these parasites were not the first, then eventually came to life and killed the victim before the house owners. Hunt began to move to escape the slaughter are getting harder.
In this film there are no goodies. Bad bad hunt and hunt for them the other bad. The house becomes a jungle where everyone – for itself. And watch all the twist and twist your hands back, closing the circle of death and resurrection. How to escape from this hell, where the time gone mad?
Lucio Fulci (Cat in the Brain and Touch of Death) made this film for television, and there is not much blood and viscera, as in his other films, though not, of course, too, can not do. The main priority was to create a climate of fear by other methods that have not completely due to weak dramatic talents of young actors, but has not made the film less interesting in terms of plot.
Screenshots:
Download: