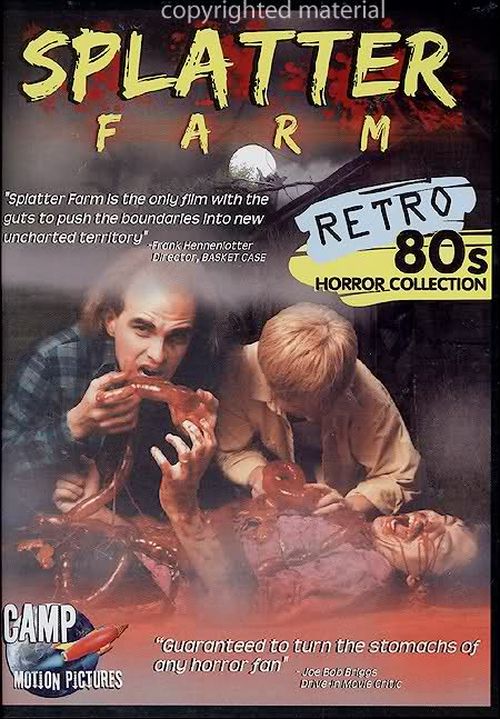 Year: 1987
Duration: 01:09:29
Directed by: Mark and John Polonia
Actors: Todd Michael Smith, John Polonia, Mark Polonia
Language: English
Country: USA
Also known as: The Degenerates
Description: About the Splatter Farm creation: Way back in 1987, teenage brothers John and Mark Polonia skip school and make one of the goriest, nastiest flicks ever. Hilarious DIY gore FX and amazingly freaky situations. The brothers have made around 30 films and considering that most of their other movies are harmless dorky fun, this is a really balls-out debut.  John passed away 2 years ago but Mark is still cranking them out.
Review: I'll skip the analysis and get right to the important stuff. Here are some of the scenes included in the 1987 no-budget home video classic Splatter Farm:
A 19 year old boy having sex with a 65 year old woman.
A man crapping out a knife.
A boy performing fellatio on himself with a severed hand.
gay rape
The human consumption of feces
Need I say more? The only thing that limits this movie from being the most shocking of all time is it's lousy direction and film stock. Granted, the ideas are nothing short of nauseatingly disgusting, however they just don't look real, which is obviously the result of an extremely low budget. Bottom line: Cheap White Trash Gore at it's best. Just rent it….when you're drunk perhaps. Have a good laugh, or vomit.
Screenshots:
Download: