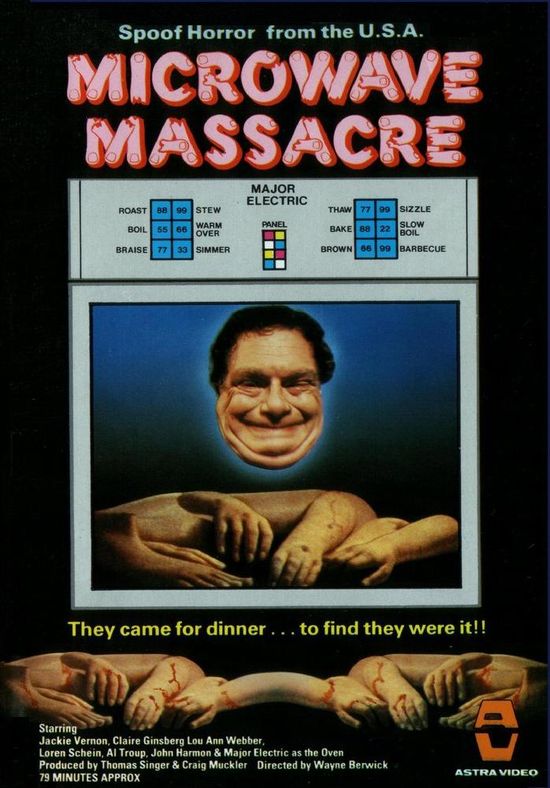 Year: 1983
Duration: 01:16:19
Directed by: Wayne Berwick
Actors: Jackie Vernon, Loren Schein, Al Troupe
Language: English
Country: USA
Also known as: La masacre del microondas, Gevmata frikis, Mikrofalowe morderstwo
Description: Poor Donald seems like a normal guy, unfortunately his wife will only cook "cultured" or "gourmet" foods. Eventually he snaps, kills her, microwaves the corpse, chops it up, and hides the pieces in the fridge. By accident he starts chewing on a chunk of her and decides it's pretty tasty. Soon Donald is picking up hot little women, screwing them, and chowing down! Feeding the stuff to his buddies too, who love it! Unfortunately our little cannibal has a pacemaker, here he is cooking with the giant microwave… …needless to say it disrupts the gadget and Donald dies. Philip and Roosevelt are unfortunate to find him and a microwave full of body parts, and that's pretty much the movie.

Starring Al Troupe, who also played in Feast movie.
Review: From 1983, this delicious gem of lowgrade b-movie trash stars the beloved voice of Frosty the Snowman, Jackie Vernon. Taken from the "Unrated/Uncut" DVD, it tops out at a whopping 76 minutes. This truly is one of the worst movies I've ever seen and one no true b-movie lover should go without. It's so terrible that the DVD contains absolutely no features, not even subtitles for the visually impaired. This movie has it all: big 80's breasts, bad acting, worse dialogue, cannibalism, and a lady in a chicken suit. Bon appetit.
Screenshots:
Download: