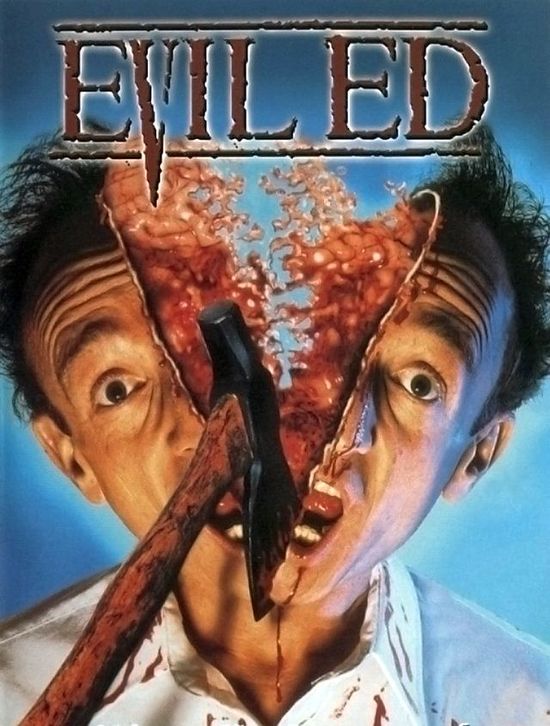 Year: 1995
Duration: 01:29:23
Directed by: Anders Jacobsson
Actors: Johan Rudebeck, Per Löfberg, Olof Rhodin
Language: English | Swedish

Country: Sweden

Also known as: Censor!, Noche frenética
Description: This crazy little flick from Sweden is lie every mother's nightmare… watching gory movies makes you a crazy, bloodthirsty murderer.  This movie's got it all; blood, violence, seemingly bad dubbing, and film references galore!
Producer of horror films  invites in the studio a modest INSTALLER Ed so that he edited for the show some of his works from the series "lost limbs." Previous employees involved in the case, committed suicide. Ed should cut the most bloody and brutal episodes. But he goes crazy with the abundance of blood, perversion and violence, and begins to "rub out" all in a row with the most exquisite ways …
Review: By the film "Sinister Ed" is not worth, well, nothing, seriously. It's down and up and down without towers, chernyuschaya comedy. The plot is, and what a. How is daily nervous breakdowns at work in the office. And so many killings by the office staff in a burst of new dipresnyaka. Looking at the work of Ed, doubts immediately leave the viewer. It's not something that a person with strong mentality, but with a weak immediately fly off the rails. But we know that all the cruelty shown on the screen with a share of a good humor that we go crazy not to. Joan Rudebek unfortunately except this film I did not see it pictured nowhere to play your best. On it and keep all the atmosphere of the whole plot and all the cruelty. Do not be a hero in this hilarious, sarcastic and funny, the film would have sunk to the level of mere "meat", and probably would not be so interesting. Ed jokes "cliche", but what "cliche".
Pick up the phone ringing phone and smash it on his head, already exhausted, the guy yelling "It's for you!" Will not leave anyone indifferent. But other actions and statements "finally moved out of Ed" make any roll on the floor laughing. Minor characters also not far behind, and annealed to the full. What is Nick's final phrase «Rest in pieces, mother fucker!». The most that neither is a terrific phrase perfectly underlines and completing all of this mindless, fun, a blood bath!
Review #2: Movie about what can bring to everyday contact with constant raslenenkoy. Not knowing what to shoot a movie in Sweden, I never would have believed it. On the one side looks like a Hollywood trash, the other main character of the game is worthy of special mention.
Now in order. The main character, Ed, his special mount film. He is quiet and unassuming, he has a very good family and he has no idea what to expect. His boss makes mount slasher, where blood is not just streams flowing and just poured through the screen. In the end, his mind simply does not stand up and it wakes unquenchable evil. The most interesting thing in this film is just the transformation of the main character in the serial killer. Game of the actor in this case is simply gorgeous, he was not found by the end of the picture. It is becoming crazier and crazier, much like the movie "The Shining." In general, the film many references to the classics and not just trash it. Speak overtures how movies can not be seen, it has to find himself a spectator. For lovers of good cinema exam knowledge. Also call it completely fantastic, where the main maniac does not kill you can not, because in this case the character is not Jason Voorhees and the creatures he sees – this is his personal hallucinations. So you can still carry a film and a psychological thriller.
There are minor characters. Ed's wife and child, a courier from the studio and a couple more. Often they are quite logical that too amazing for this movie and sharp turns with their participation, especially at the end just enough.
In general verdict that is the American slasher with European charm and is worthy of review.
Screenshots:
Download: