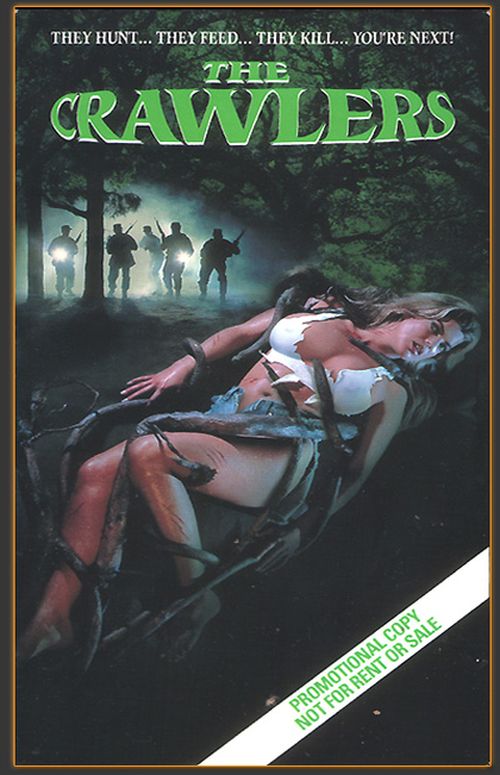 Year: 1993
Duration: 01:34:50
Directed by: Joe D'Amato, Fabrizio Laurenti
Actors:  Mary Sellers, Jason Saucier, Bubba Reeves
Language: English
Country: Italy / Canada
Also known as: Contamination .7, Creepers, Contamination 7, The Crawlers, Troll 3, Troll III: Contamination Point 7
Description: Waste NPP find their final resting place in the woods. Soon the light of day there is something that is a product of the chemical and genetic mutations, which starts killing foresters, mushroom and ordinary people. Local journalist Brian, as well as helping him with the girl boyfriend Matt Josie are interested in elevated radiation in the woods and begin their own investigation …
Review: This has got to be the worst "killer plant" movie I've ever seen – never mind that right now I can't think of any others, even though there's got to be a bunch.
In the wee town of Littleton (probably not THAT Littleton), carnivorous vines are making things difficult for a woman who moved to the Big City for a couple of years and is now back to see her family and one-time boyfriend. (strange that every bus leaving this town goes straight to Alaska) I capitalize Big City because every time somebody says it – and that's about a hundred and fifty times – you know that THEY'RE capitalizing it.
Meanwhile, a drunk nuclear physicist hired by the local nuclear power plant is investigating the whole mess, stymied at every turn by The Man (that is, his employers and the local cops). What links him and the woman (well, the woman's boyfriend) is the town hooker, who hears all her customers' drunken ramblings.
It's just terrible! The only good thing about the movie is the wealth of pretty scenery. Everything else is like a how-to of making excruciatingly bad movies; acting, writing, and attempts at suspense all vying to outdo each other in sheer incompetence. Even the effects suck – how hard can making killer vines be? Those miniature bulldozers aren't even the same color as the real ones.
Features the most easily escaped-from jail cell I've ever seen, and the fakest helicopter crash too (and I've seen Carnosaur 2!). Even though it only has nine votes so far, this movie has the lowers IMDb viewer rating I've seen to date, at one-point-two. Directed by some guy named Fabrizio Laurenti. There's a reason you've never heard of him. It's Canadian, so it makes me hate myself a little more. Thanks a lot, Fabrizio.
Review #2: What side film "Contamination 7" associated with the franchise "troll" to me, to be honest, is not clear. If the second part, at least, also pretended to be a fantasy bike, as well as antagonists, there were goblins, as demonstrated in the first film, the trikvele, first, there is no hint of fantasy, and secondly, there are no references to "Trolls", he does not. However, the special significance this time has not – do not take the same kind of disadvantage.
Who watched "Evil Dead" is sure to remember that in one of the scenes of a Woman brutally raped suddenly revived the roots of trees. The scene was really shocking, but it was only the scene, but the makers of the film "Infestation seventh power", not long thinking, decided to dedicate revived woody roots of a film – and it has paid off.
The idea of ​​the original, but unlike all the same "Evil Dead" movie under consideration is not enough just cruelty – something really shocking in the preview, you will not see. But as a sci-fi thriller, which while still quite seriously address the problem of nuclear waste disposal, the film was a success. The plot is really intriguing movie looks with interest.
When I was young, this film was shown on TV. At the time, on TV can be had a lot of stylish kinoshek see here. In general, that all of today's favorite movies I just made up of previously seen dusty horror of a bygone era. There was a very eerie scene in which a police officer was attacked by mutant roots of trees and the Boers began his body punching their way through the walls and floor of fragile wooden house. This scene is and has been the main hook in his search. The rest I have watched with fear pieces … But recently there was an opportunity to restore the whole picture in mind – I got this rare shedevrik. But do not think that it is of great value for fans kinouzhasov. For me, it is like a native. And mistakes in it can be considered a very long time and the idea of ​​originality, though pleased, but not worthy of garters and do not smell it. But I like it. After all, if you're watching a movie and a half hours without stopping, with a sincere and genuine interest … Is it that bad?
Though filmed in the 90's, and I dare say look at all 80. 80's at its best. Here, the plot and the music synthesizer in excess of the actors in the tradition matched. Pubs with rock 'n' roll and lascivious Redneck … Very annoyed that he did not come out on DVD, we do not not abroad. Well, we will be content with satellites and digitizing tapes. For those who love the dusty horror – see, will not regret. And fans and gloss effects can not be anxious and do not look for this movie convulsively as he did many years your humble servant.
If you too are looking for it then you should know, the film has many faces. He even had the original two titles – The Crawlers and Contamination. 7 Which one is more original, so I can not judge, I have two versions, and each in the opening credits of different names. There's also a chance to find by name Troll 3 (this is apparently from the same area as the Demons 3), roots, creeping things, and yet all sorts of similar variations. By the way who is there actually director is also a mystery. Not that D'Amato (he also directed Anthropophagous 2000 and Orgasmo Esotico), Fabrizio Lourenti not … Or maybe they really were two, although only one in the credits and the one under another name.
Screenshots:
Download: