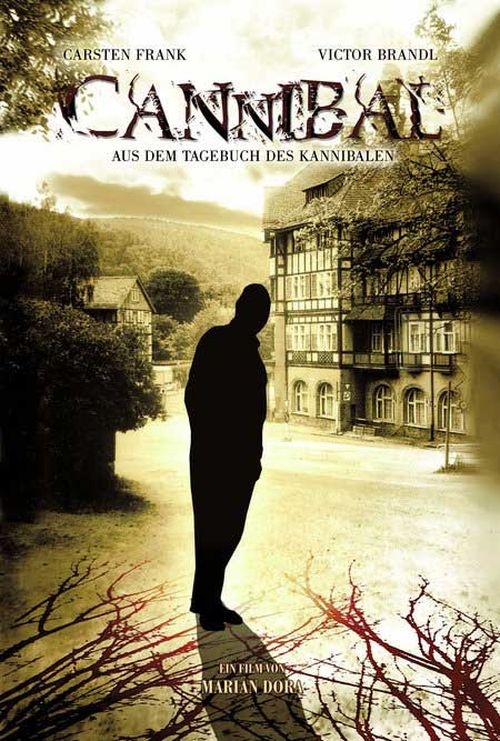 Year: 2006

Duration: 01:29:04
Directed by:  Marian Dora
Actors: Carsten Frank, Victor Brandl and Manoush
Language: English
Country: USA, Germany

Also known as: Cannibal – Aus dem Tagebuch des Kannibalen
Description: Soft developer Armin Meiwes (referred to in the film, as "Man") posted in the Internet the ad that is looking for a partner to have sex, which can then be skinned and eaten. On his "call", oddly enough, responded employee of "Siemens" Bernd Juergen Brandes (uncredited labeled as "meat"). Heroes retire in a country house, where they committed their plan.
Review: Let me first go on the record and state that this movie was almost hard for me to watch, and saying that means alot. I'd put it around the ranks of Nekromantik 1 and 2 which tells you how jacked up this movie is. Secondly I've never seen gay porn before so watching this movie kinda reassured me that I'll NEVER go that route. Anyways so the movie starts out with a young boy being read to by his mother. The story is Hansel and Gretel, and for some strange reason the part about the witch wanting to eat Hansel and Gretel sticks with him  throughout his life until the present time of the movie when we come to find that he's got extensive books on cannibalism and everything to do with eating flesh. His obsession becomes
something realistic when he puts an ad online for a victim and after many people backing down and running off he finally comes across a willing participant.
After alot of heavy petting we come to find that the two guys are both pretty gay, which I dont mind, it was the playing out in the grass naked and the buttsex that got to me, and I could feel my pants shrinking to the sight of it. So anyways after the buttsex the victim decides he wants his dong bitten off so our young cannibal in training goes to bite it off and only bites enough to make it bleed. Well the victim is outraged, feeling like he's wasting his time and that the young man is too scared to go through with eating him so he asks to go home.
Well needless to say the movie didn't end there, after some conviencing they go back to the young man's house and pick up where they left off, and I'll stop it at that because obviously by the name of this movie something DOES happen, let me just be the first to say, HOLY SHIT! This movie got to me, got to me in a way that most movies don't, see with all the movies I've seen many are just totally made up movies that could never happen but this movie just tells me that this really does happen. In fact, it's said this movie is evidence in the trial of a
real cannibal, but of course we can tell it isn't by all the different secondary cameras used in the movie, kinda like a Blair Witch of cannibalism.
Screenshots:
Download: