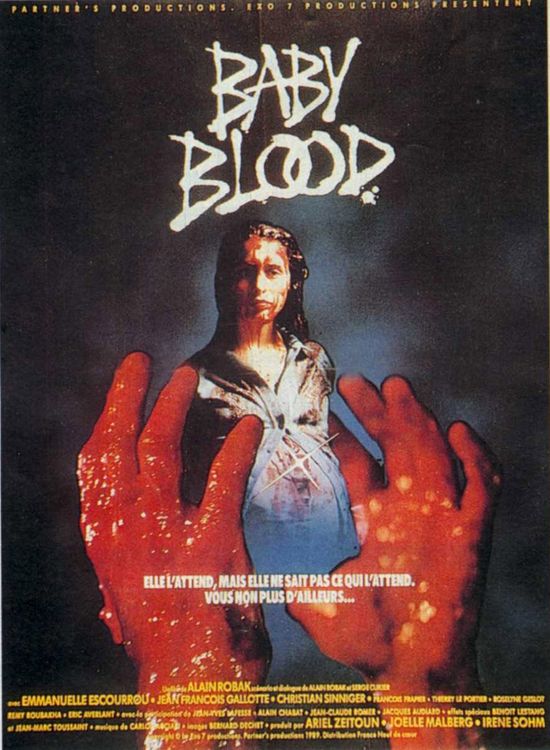 Year: 1990
Duration: 01:23:55
Directed by: Alain Robak
Actors:  Emmanuelle Escourrou, Christian Sinniger and Jean-François Gallotte
Language: French (English subs)

Country: France

Also known as:  Neaniko aima, The Evil Within
Description: Tamer Janka was fertilized by an ancient parasite, who left the body of an African panther. Child inside the womb required human blood for his development, forcing a woman to commit savage murders.
Review: Something that appeared in this world in the beginning of time, in contrast to other living creatures did not have a chance at birth … so for billions of years and are mired in a state of disembodied spirit, and then – once, and some French decided about a horror movie shoot . Well, it got out to the Light Godless, left imprinted on celluloid impassive as another mystical horror-movie, which is not that quite hopeless (here there 18 years later, even the continuation shot), but leaves some strange impression, as did most French "horror."
The plot of the film is largely echoes released a year or two later, the American "unborn", but in contrast to overseas filmmakers, led by the French is not too well known in Russia, directed by Alain Robak, not too preoccupied with his own troubles and connectivity. Rather, in line with the national mentality, they decided that the more absurd would be a mixture of the course of action, the better. And the action itself – what it should do? That accounts for the viewer to puzzle out what he is watching – whether bloody slasher, or a surreal play, or even filled with venomous sarcasm Guignol.
Screenshots:
Download: