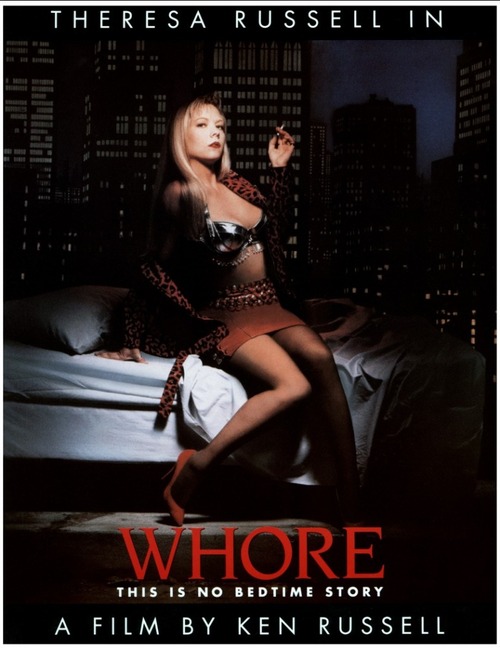 Year: 1991
Duration: 01:21:41
Directed by: Ken Russell
Actors: Theresa Russell, Benjamin Mouton, Michael Crabtree
Language: English
Country: USA / UK
Also known as: A Prostituta, Whore International, A prosti, Die Hure, Dziwka, En horas dagbok, Hore, Huora, I porni, If You're Afraid to Say It… Just See It, Kurva, La putain, Prostituta. Puta, Whore, Whore – Putain
Description: Liz is young and beautiful, cynical and sensible, assertive and timid. Sex is her business and she knows a lot about it. Seductive movements that excite men, the words they want to hear. Yes, she is a whore. Yes, she is ready to fulfill any request from the client, because that is for what she is paid. Unless, of course, they will pay …
Review: "Whore" – Do not you think that the oldest profession, should be written by a dash, such as the oldest profession – the most disgusting profession. And unless you can assume the sale of his own body, profession, fuck for money and do with human, dirty genitals everything you wish them anxious owner, was it possible to name a profession? Is that sold itself greasy director and the secretary got a place, that is, it turns out that prostitution – is in a sense, the easy way to career highs, and many women are convinced that they are not readily available to them to sleep, you need to first a good make love, but when on the horizon denyuzhki, not all women are constrained, and many are on the easy way, no they do not turn into sluts, no, they odolzhayut their method of making money for a few days, but then, when you look back, are beginning to understand they live with the money bag is a long time, and he fucks them, because you already own them.
Ken Russell (Lair of the White Worm and Devils), for despite the fact that a rich filmography, I do not know. This is my first film where he also acted as a co-writer, which I liked, I do like the whole movie, as a whole, in my opinion, I get pleasure from this old picture of a confession by an experienced, street whores who call in for her, so-called career, so many different types of filth. Becomes this way, the same as becoming a drug addict, as they say, there is no ex-addicts, the same thing I would relate to prostitutes. If a woman is sold to him what that freak for fifty bucks, what of respect for this man be? And let it come off with this "profession", but she, etc rest of his life, will know that it is selling a slut, taking in her mouth all she popped over forty dollars, if I'm not mistaken, this is the dachshund was the main character on named Liz. Weak women are whores, that's Liz, from strong to weak woman, transformed life. She fell in love with what that asshole who started to thump hard, and she was a child ran away from him, how she became a prostitute, it has not been shown to be anyone's guess.
If you meditate, you can remember one very good transcript, because you can type fuck, too, can sell, so why not fuck for money? I always loved those words. I have nothing against prostitution itself, I would not forbid a woman should in itself to ban it, to become stronger, become at least a little to the lady who knows what she wants, and if he wants to, then you need to achieve this with the help of its own forces, and not be hung around his neck, what that businessman. The plot of the film tells the story of a prostitute Lizzie, which day and night stands on the road in search of customers. The film is, like a reality show, because Liz is always talking and looking directly into the camera, and in the course of events recalls his worthless life. Tell me honestly, the movie is very interesting, simple, a bit dirty, as the name implies, actress Theresa Russell, played her character, Liz, just wonderful. The film was very direct, that is Ken Russell wanted to transfer to the screen all this dirt and filth of prostitution and it is cool out. Summarizing say a simple movie with a very interesting story, and quality performance the title role.
Screenshots:
Download: