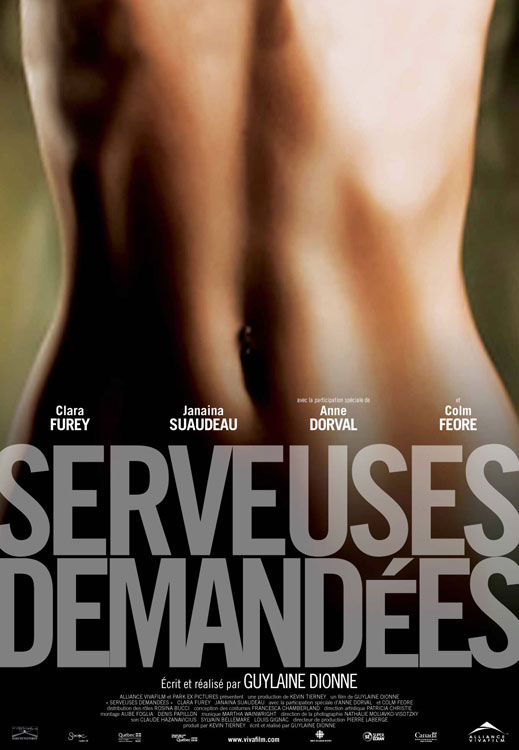 Year: 2008
Duration: 1:49:54
Directed by: Guylaine Dionne
Actors: Clara Furey, Janaina Suaudeau, Anne Dorval
Language: French(No Subs)
Country: Canada
Also known as: Serveuses demandées(Original Title)
Description: IF you have REALLY seen Guylaine Dionne's: 'Serveuse Demandé' and have FULLY understood it then you SHOULD have realised that this movie deals STRICTLY with the subject of exploitation of foreign young women students particularly from South America and Eastern Europe-A sad reality which we have all read about in the newspapers and on radio and television news and special report broadcasts!
THis is the story of a young and innocent student from a small town in Brasil who is in Montreal on a student visa which has long expired and was obviously scared of being found by Canadian Immigration authorities and deported back to her country!. She finds a job in a Strip night club in Montreal and meets 'Milagro', a very pretty dancer from Brasil as well and they hit it off right away and become very good friends!. Milagro takes the new commer under her wings and teaches her all the tricks of the trade, including the very sexy dance moves, and even manages to get her some false documents through her boyfriend's underground connections!; But her boyfriend is one of the people involved in the exploitation process of those innocent girls and gets very jealous of their close friendship!. During one of his fits, he hits Milagro and causes her many bruises on her face and body!. He even threatens her life!.
Milagro, who has a young daughter being taken care of by her mother has dreams of going back to her country Brasil with her daughter one day!. There is a very interesting twist to the story towards the end when we discover to whom Milagro is really working for!. this is a very poignant, touching, and gripping of friendship and indurance with solid performances by Maina Eva, Bianca Bellange and Anne Dorval. It is Guylaine Dionne's second directing role after the successful moviea: 'Les fantômes des trois Madeleines'. It is an ABSOLUTE must see!
Screenshots:
Download:
Waitresses Wanted Serveuses demandées(Original Title) 2008 | Free Download