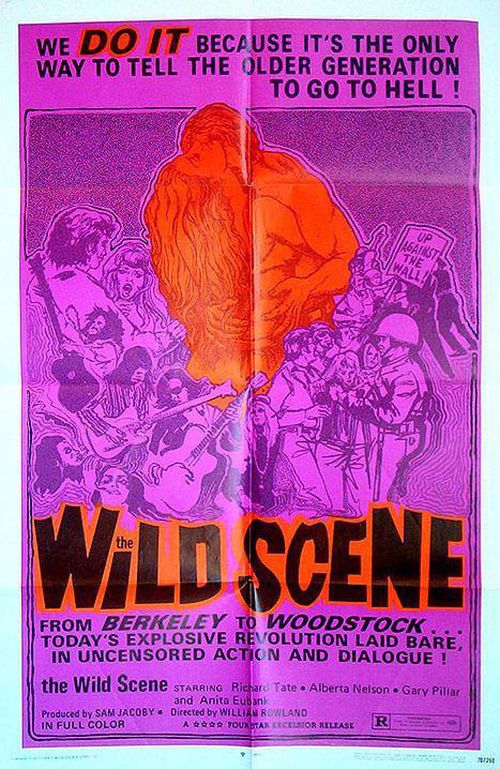 Year: 1970
Duration: 01:29:51
Directed by: William Rowland
Actors: Richard Tate, Alberta Nelson, Gary Pillar
Language: English
Country: USA
Also known as: N/A
Description: Famed psychiatrist Dr. Virginia Grant is writing a book about young patients and their troubles in the modern world. Each 'chapter' in the book is a vignette in the movie. The book is called: The Wild Scene. Sadly, despite the fact it would be a much better flick with tons of gratuitous nudity, most of the nudity is portrayed in psychedelic paintings in the opening credits.
Dr. Virginia plays back the tape of the opening case in her book for her fella, Jack
Andrea Foster's mother, Faith (left), is a shrewish fashion designer who constantly nags at and belittles her husband
Here Andrea is about to catch her mother in flagrante delicto, , and this, and possibly the clothes her mother provides, set things in motion. I don't want to give too much away, so I'll just say incest and suicide may or may not be involved.
In the next vignette, two wild sisters defy their mother's request that they stop being so fucking wild, with the drugs and shit.
They go to a pot party and bad things happen, maybe. This dancer is one of the few occurrences of nudity in the film.
Meanwhile, Dr. Virginia's own daughter Diane is rebelling. She's dropped out of uni and is living with Hal, head of the Youth Party.
Hal brings in another chick to live with them, ostensibly to do the housework and photocopying for the Youth Party, etc. Diane is not happy with this development but Hal eases her mind. "You just have to trust me baby."
Mom has decided to add a chapter about her daughter, and dictates about her into the reel-to-reel
Next case: Dad is a surgeon, and keeps writing birth control pill prescrpitions for his daughter, who claims to keep losing them
She isn't really losing them, she's passing them along to her friends, who are all prostitutes! This story has a delicious twist, worthy of O'Henry.
Meanwhile, the Youth Party has arranged a HUGE demonstration against the establishment. Note: when I was an extra on 'Ladies and Gentlemen, the Fabulous Stains' (working title 'All Washed Up'), I got $20 and a boxed chicken dinner. I also got to see the Professionals lip-synch a few songs. But this crowd scene is pathetic – I count 25 or so.
Next story – this chick just married the old fart for his money (duh). As it turns out, she's a lesbian!
The dude is shocked but cool with it – as long as he can watch!
Dr. Virgina is suspicious of Hal, thinking he's only using Diane for her money, so she infiltrates the scene.
She accompanies Hal to a drug party, where we get a little bit of nudity in the pool
Hal tries to blackmail her for more money.
Stuff happens that I won't give away, the end. 
Screenshots
Download