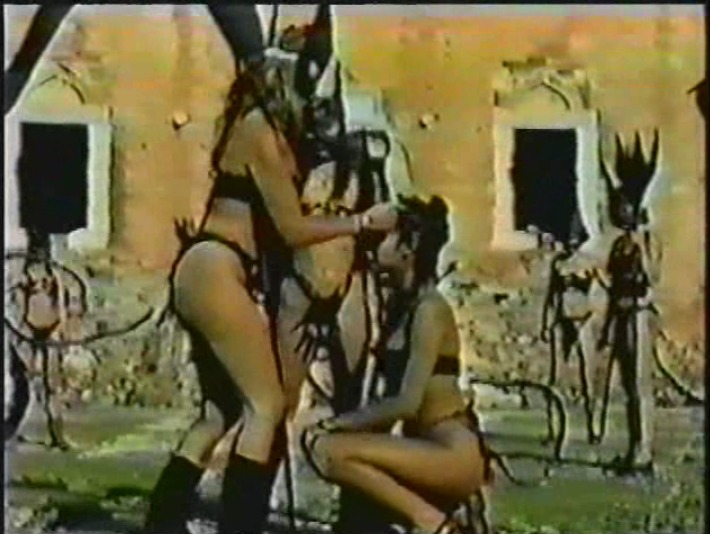 Year: 1987
Duration: 01:04:59
Directed by: Kadir Akgün
Actors: Gülderen Acarlar, Figen Aydogdu, Dilara
Language: Turkish
Country: Turkey
Also known as: Devil Girls
Description: This is the worst excuse for a film I have yet to post on this site, and I may never top it.
How someone actually pooled together the (admittedly very sparse) resources to make this movie is mind boggling.
The story? Ha!
I'll just explain what happens… a young couple is on a nice little date. They play on swings, the guy gets a little fresh, so they head to the beach, where he clearly thinks he's about to get some. She has him close his eyes, but when he opens them she is wearing what kind of looks like a batman mask made out of cardboard, a black bikini with a pipe-cleaner satan tail coming off her ass, and a big pitchfork, also sort of cardboardish! Then she starts whipping him mercilessly! She's a DEVIL GIRL!!!! She signals her fellow devil girls with a hand mirror, and they take the man and throw him in with the other men they're waiting to sacrifice… i guess to satan?
Basically, they're an "elite" (ha!) squad of vigilante chicks that want to hunt down guys in general, and rapists in specific.
SEE women who have no idea how to throw a punch struggle through laughable fight scenes!
SEE halfhearted karate kicks that miss by a mile
SEE women doing martial arts training IN HIGH HEELS!
SEE the most blatant use of cardboard sets and props outside of a David the Rock Nelson film!
Seriously, how did the filmmakers get these women to be in this film? I've seen the stars of bukkake gang-bang videos walk away with more pride than these ladies, and they don't even get naked!
If all this wasn't enough, this wonderful tale of women standing up for themselves ends with about a ten minutes sequence of the girls dancing that kind of feels like a cross between line dancing and aerobics.
Screenshots
Download