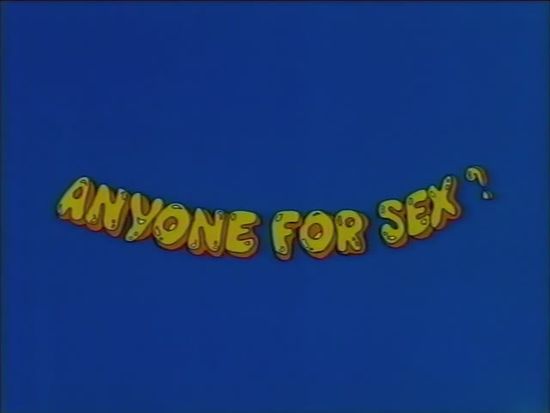 Year: 1973
Duration: 01:31:36
Directed by: Ralph Thomas
Actors:  Hywel Bennett, Nanette Newman, Milo O'Shea
Language: English
Country: UK
Also known as: Anyone for Sex?, It's a 2'6" Above the Ground World, Min koimaste… me tin gynaika sas, Pílula ou não… Eis a Questão
Description: Love Ban was filmed by director of movies Conspiracy of Hearts flick.
Review: 
Bit of a weird one this.  It's based on a stage play, which I imagine rears its head mostly in the second, talky half of the film … that bit's actually almost good! … but, I'm sure of more interest is the first hour or so which is a standard 70s Brit Sex Comedy with Hywel Bennett (from Percy) as a bra salesman getting increasingly frustated by his wife's ban on sex.  He responds to this horrendous imposition by imagining most of the women he meets naked … good work.
I like to imagine the play's author angrily banging a typewriter, probably with a stiff drink nearby, as he is forced to cram tits into the script to get it made … sorry dude, I understand your artistic integrity and all that, but it has ensured that 37 years later I'm introducing the film to this fine community.
Should note, before fans of the fantastic Madeline Smith get too excited, that sadly it isn't her in the topless scene … it's some mid 70s glamour girl called Nicola Austine in a wig (who, I'm pretty sure, also stands in for Antonia Ellis earlier in the film) … guess we'll have to go watch Up Pompeii again.
Screenshots:
Download: